It's not surprising to hear people refer to comics, graphic novels, or manga as genres. It happens often, particularly in conference presentations where a question will inevitably include 'genre' as a descriptor. They're usually referring to the superhero comics they grew up with, or the kids comics that dominate bestseller lists today—not realizing comics is an expansive medium encompassing EVERY genre.
Much of this is due to the relative newness of the graphic novel and manga formats in the United States, where sales have significantly exploded over the past two decades. Even more confusing, "Comics and Graphic Novels" have their own BISAC Subject Heading alongside actual genres like Fiction, Biography & Autobiography, and Science, with many of those genres as sub-categories, including Manga.
Before we proceed, I should clarify terminology and then we can talk about how we got to this moment.
"The massive shift to graphic novels as the preferred format for comics continued in 2019, bringing sales in the book channel above the comic store channel in North America for the first time in the history of the medium."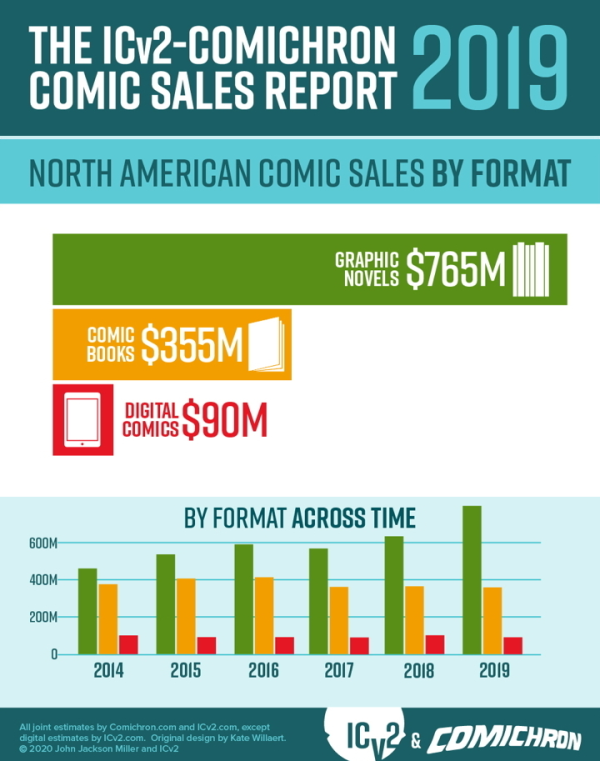 Graphic novels are a format; comics is a medium
The word comics is often misconstrued in so many ways so here's the short of it. Comics is a medium that is delivered in many formats: panels, strips, Sunday Funnies, periodicals (comic books), graphic novels, manga, and webcomics. Like film or music, comics can tell stories in any genre and across a variety of formats.
Looking at the history of the comics medium demonstrates how they have played a critical role in expanding literacy for generations.
For many people who learned to read in western societies over the past hundred-plus years, comics have been an everyday part of life. The Sunday newspaper was where you found comic strips and single panel comics like The Katzenjammer Kids, Ripley's Believe It or Not!, Doonesbury, and The Boondocks. Popular comic books (or periodicals) of the past included Archie (which is still going strong), Creepy, Eerie, and early iterations of the various superheroes who are now dominating big and small screens.
Because comics were so easily discovered and read up until the 1980s, people often underestimate their role in nurturing previous generations' joy of reading. Meanwhile, children's comics are currently one of the best-selling categories across the board, with wildly successful series from creators like Dav Pilkey and Raina Telgemeier outselling some household names in traditional prose categories.
Many adults in the U.S. still associate comics with the superhero genre, though, partly because of their incredible success at the box office, and more recently on streaming services like Disney+ and Netflix. There are an incredible number of stories in the realm of superheroes that have engaged readers of all ages for decades, featuring iconic heroes like Superman, Batman, Wonder Woman, Spider-Man, Iron Man, the X-Men—but there's so much more to discover!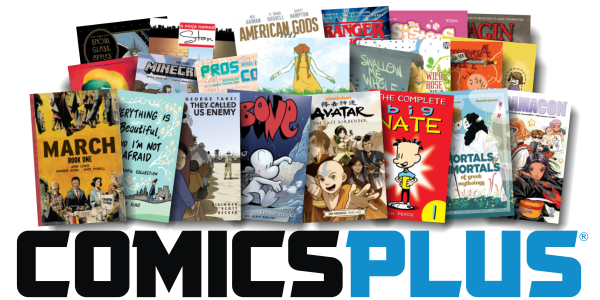 Beyond the capes and tights, and print
Graphic Novels, Manga, and Webcomics are the latest formats to join the comics medium. Although graphic novels and manga seem to have suddenly appeared from out of the blue, the development of these two formats have a much longer history. Comics legend Will Eisner is credited with coining the term graphic novel back in the 1970s, as an effort to show the literary capabilities of the comics medium. Manga, is the Japanese term for comics and dates back 1,000 years, but as a book format, modern manga's roots begin in the late 1940s when Osamu Tezuka published his adaptation of Treasure Island.
Eisner and Tezuka share a direct connection to increasing rates of literacy in their respective countries thanks to the role they played in helping grow the popularity of the comics medium.
Webcomics are the newest format for comics creators and readers, offering more opportunities for creative storytelling, and increasing accessibility beyond the limitation of print formats and physical distribution. The only limits are the creators' imaginations, and readers' internet connections.
A medium, not a genre
For every genre or subject you can think of in prose storytelling, fiction or nonfiction, there's an equivalent in the comics medium.
The earliest and most popular genre for graphic novels would have to be memoir. Thanks to books like Maus by Art Spiegelman; Persepolis by Marjane Satrapi; Blankets by Chris Thompson; Smile by Raina Telgemeier; and New Kid by Jerry Craft—the popularity of graphic novels has been boosted by critical acclaim and major award winners. Although it was incorrectly cataloged as a graphic novel in the early days, Diary of a Wimpy Kid by Jeff Kinney also played a huge role in growing the medium.
Humor and fantasy are well-represented by series like Babymouse by Jennifer & and Matthew Holm; Big Nate by Lincoln Peirce; Bone by Jeff Smith; and Elfquest by Richard & Wendy Pini. here are even adaptations of classic literature, with the works of Shakespeare, Mark Twain, or Jane Austen receiving both western and manga versions.
Alongside the growth of popular fictional genres, there has also been a rise in graphic nonfiction categories like biographies, history, science, and mathematics, including the award-winning March trilogy by Rep. John Lewis, with Andrew Aydin and Nate Powell; and They Called Us Enemy by George Takei, with Justin Eisinger, Steven Scott, and Harmony Becker.
Comics is a versatile medium published in a wide range of formats—strips, periodicals, graphic novels, manga, web—and it covers every possible genre and subject you can think of.  It is also a powerful way to engage and excite readers of all ages, abilities, and interests!
Learn more about Comics Plus at comicsplusapp.com.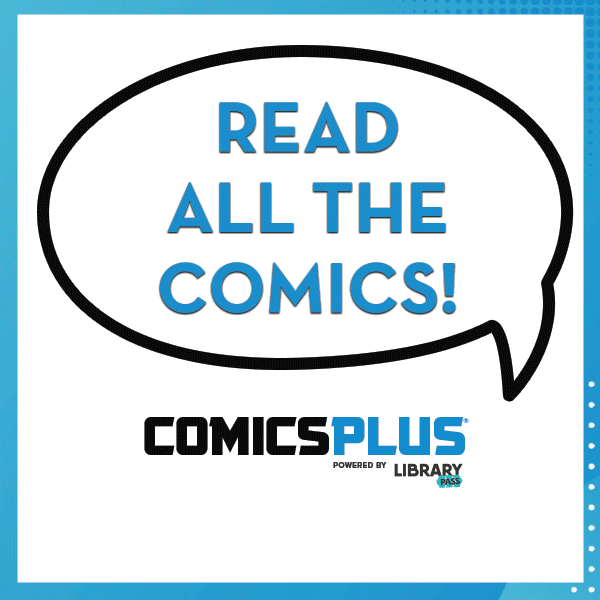 A version of this article was first published at Comic Plus.