January 27, 2021

Join us on Wednesday, January 27th at 6pm ET (3pm PT) for this free webinar where our panel of experienced librarians—K.C. Boyd, Joy Harvey, Angie Mahalik, Cait Zaksheski—will discuss how to successfully integrate comics, graphic novels, and manga into your collection development plan. The 60-minute presentation will be moderated by LibraryPass' John Shableski and offer insights on aligning your collection to support classroom instruction, while also meeting students' varied reading needs and interests.
November 24, 2020
What You Should Know About Comics, Graphic Novels, and Manga in Classrooms
Karen Gavigan, Christina Taylor, Kat Kan, and Esther Keller discuss how the comics medium works and why it has become so popular, particularly amongst younger readers. They answer the questions librarians and educators frequently have about comics, as well as those asked by parents who don't believe comics count as 'real" reading.
ARCHIVE AVAILABLE SOON
November 5, 2020
Library Journal and School Library Journal's fourth annual LibraryCon Live—a day-long celebration of fandom-beloved stories and characters, featuring the creators behind mind-bending speculative fiction, innovative comics, and fan-favorite graphic novels—was a huge success. Registration is free and all sessions and author chats are still available for viewing on-demand until January 5, 2021.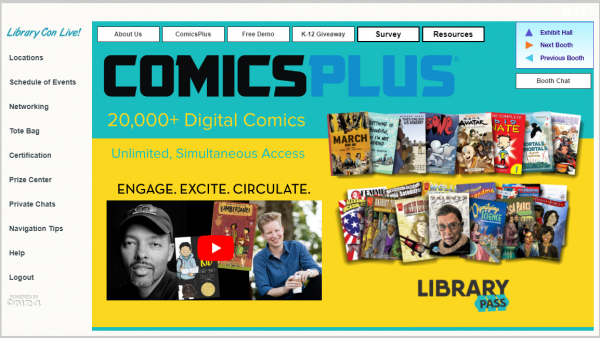 October 27, 2020
This free webinar features Jerry Craft, Tracy Edmunds, Grace Ellis, Talia Hurwitz, Rossie Stone, and Anthony Zuiker discussing their unique perspectives on the process of developing empathy with comic books & graphic novels. The 60-minute session is moderated by LibraryPass' Chief Ambassador, John Shableski.
July 30, 2020
Before the graphic novel lands on a shelf in the store, library, or classroom there are a great deal of decisions that come into play: does the book belong with the themes that house represents? What events or holidays can the book leverage for promotion? What kind of work will be involved in shaping the stories? How is a book selected? What do editors look for in a story or the author? What kinds of surprises can an editor anticipate when working with a new or even established author? These veteran editors valuable perspectives will share insights on what makes a book come to life.
Panelists included Greg Hunter, Editor, Lerner Publications; Mandi Hart, President, Cave Pictures Publications; Shannon Watters, Senior Editor, BOOM! Studios; Chris Harbo, Acquisitions Editor, Capstone Publishing; and Justin Eisenger, Editorial Director, Graphic Novels and Collections, IDW. Moderated by John Shableski.
July 22, 2020
At the request of Will Eisner, a librarian has been a member of the Eisner Awards jury since 2005. When Jackie Estrada, Administrator for the Eisner Awards, invited Kat Kan to be that first librarian jury member, the awards began to take on a new kind of energy. Since that day, the influence of the awards has grown beyond the traditional comics community and now resonates with traditional publishers, academic institutions, and throughout the library world. Join in on the conversation as these ground-breaking librarians talk about their experience as members of the Eisner juries over the years.
Moderated by John Shableski (2009 Jury) this session features five Eisner Librarian jurors: Kat Kan (2005), Karen Green (2011), Jason Poole (2016), Dawn Rutherford (2017), and Traci Glass (2019).