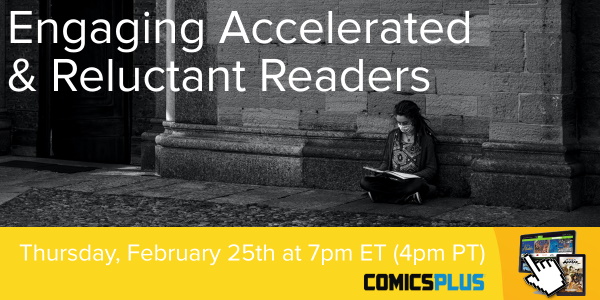 In an increasingly visual world, there is a growing understanding and appreciation for the unique role comics, graphic novels, and manga play with engaging readers of all ages and abilities. The comics medium offers a broad range of genres, perspectives, and visual styles that appeal to students of all levels—from reluctant to accelerated; the trick is identifying the right titles for each reader, and knowing how to use them as reading support tools.
Join us after hours on Thursday, February 25th at 7pm ET (4pm PT) for this free webinar where our panel of experienced educators—Jesse Karp, Shveta Miller, Julie Ann Price, Susannah Richards, Ph.D., Jana Tropper, M.S. CCC-SLP—will discuss their process for using comics to support readers of different abilities, how they partner with other stakeholders, and how they measure their success.
The 60-minute presentation will be moderated by LibraryPass' John Shableski and will include a live Q&A segment where our panelists will answer attendees' specific questions submitted via the registration form and during the session. Registrants will have access to a list of resources and solutions for supporting their own efforts in engaging gifted and reluctant readers with comics, graphic novels, and manga.
NOTE: A Certificate of Completion will be available to those who attend this webinar. The on-demand recording will be available at librarypass.com within one week after the live presentation.
---
Panelists
Image: Photo by Giancarlo Corti on Unsplash