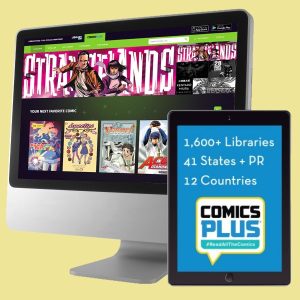 2021 was a great year for Comics Plus, which is now available exclusively through 1,600+ schools and libraries in 41 states and Puerto Rico, as well as several foreign countries, including Australia, Canada, New Zealand, Spain, UK, and Vietnam.
From the addition of new publishing partners like Abdo, AWA Studios, Fanbase Press, Graphic Mundi, Humanoids, Kodansha, Scout Comics, TKO Studios, and Yen Press, to our revamped web interface and iOS and Android apps—unlimited, simultaneous access to a diverse collection of digital comics, graphic novels, and manga became a reality for thousands of students and library patrons around the world.
As the collection grew, so did our curation efforts. We added manga sub-categories to the catalog, along with a broad range of featured topical and thematic lists to simplify discovery for readers with specific interests. We added three new categories to make it easier for librarians to find specific types of books, too: Art Books, Techniques, and Reference. Behind the scenes, we improved access to Comics Plus with optimized experiences for MackinVIA and SirsiDynix customers, and SIP2 authentication, along with free, self-service MARC Records.
We also received great reviews from Library Journal and School Library Journal, calling Comics Plus "an excellent resource… for dedicated and novice comics readers alike," and "probably the strongest manga subscription service available in English outside of Shonen Jump and Crunchyroll," respectively.
We're extremely thankful for our customers and distributor partners for putting their trust in Comics Plus, and we're honored to work with our various publishing partners who believe in offering fair, affordable access to digital content in schools and libraries.
For more information about Comics Plus sign up for a FREE demo at comicsplusapp.com, follow us on LinkedIn, or contact us at info@librarypass.com.