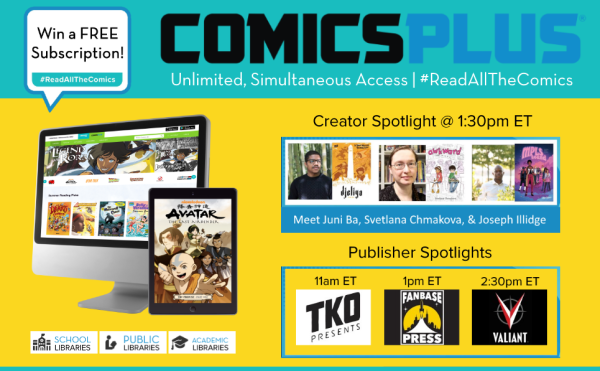 We're excited to be joining Library Journal and School Library Journal on November 10 as a sponsor for their fifth annual LibraryCon Live! The free virtual event offers a day-long celebration of horror, sci-fi, fantasy, and graphic novels, and is excellent opportunity to catch up on readers' advisory recommendations and professional development.
Stop by our booth to learn more about Comics Plus, and meet some of our library-friendly publisher partners from TKO Studios (11am ET), Fanbase Press (1pm ET), and Valiant Entertainment (2:30pm ET). And be sure to visit the booths of some of our other partners who are also sponsoring the event—Andrews McMeel, BOOM! Studios, Dark Horse, IDW, Yen Press—and thank them for supporting #ReadAllTheComics by offering unlimited, simultaneous access to their digital catalogs through libraries and schools!
If you missed our amazing conversation with Juni Ba (Djeliya), Svetlana Chmakova (Awkward, The Weirn Books, Dramacon), and Joseph Illidge (MPLS Sound, Heavy Metal), you'll be able to catch it at there as part of the main program, too, starting at 1:30pm ET.
LibraryCon Live attendees will also have a chance to win a free subscription to Comics Plus and a selection of print comics for their library. Stop by our booth to learn more!