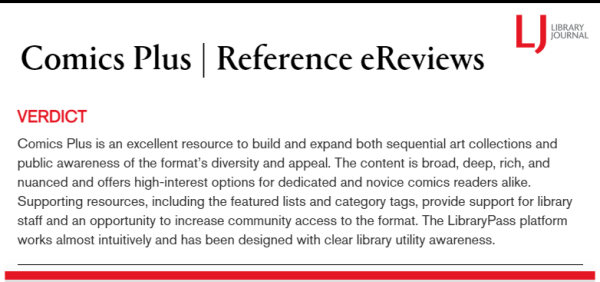 Library Journal, the premiere publication for librarians and information specialists in public and academic libraries, reviewed Comics Plus in their October 2021 issue and gave it a positive review!
They not only recognized the thousands of great comics, graphic novels, and manga our 100+ publisher partners make available to libraries and schools for affordable unlimited, simultaneous access, they also noted our growing wealth of resources to help drive engagement and circulation.
"Comics Plus is an excellent resource to build and expand both sequential art collections and public awareness of the format's diversity and appeal. The content is broad, deep, rich, and nuanced and offers high-interest options for dedicated and novice comics readers alike. Supporting resources, including the featured lists and category tags, provide support for library staff and an opportunity to increase community access to the format. The LibraryPass platform works almost intuitively and has been designed with clear library utility awareness."
Thanks to our 1,500+ library and school customers for sharing Comics Plus with their readers before it was cool!
For more information about Comics Plus sign up for a FREE demo at comicsplusapp.com, follow us on LinkedIn, or contact us at info@librarypass.com.