The concept of family is no longer the simple, nuclear definition often idealized in stories of the past. It is now accepted that families come in all sizes and combinations—diverse, messy, wonderful, and often complicated. What has not changed is the enduring value of "family," whether blood-related or chosen, and the lengths most of us would go to in order to uplift and/or protect our own—for better or for worse.
While some may find the upcoming holiday season familiar and approaching normal, others may be adapting to changing family dynamics, forging new bonds, and embracing new customs. Whatever old traditions we partake in or new ones we create, our All in the Family collection celebrates the good, bad, and everything in between that comes with the notion of family ties.
Children often lend well-meaning assistance to the adults in their lives, but the results can definitely vary. This is the case with Tom, Grace, and Willy—three siblings who decide to take a Mother's Day break from their favorite activities to "help" mom. Mom is in for a real surprise because that help includes painting various rooms, bathing unruly dogs, and generally creating havoc in the house!
The story is perfect for beginning readers, with bright colors and simple illustrations. Despite its short length, it tells a complete story with interesting characters and a believable family dynamic. The Day Mom Finally Snapped also introduces the idea of empathy for family members, particularly the adults, in a way that young children often have not yet conceptualized. Back matter includes a brief glossary of key terms.
Tripp is a popular gamer who struggles to balance academics, family life, and his streaming fame. His family consists of his mom and one close friend, and on his thirteenth birthday he opens a mysterious present from his missing father, unleashing strange forces from cyberspace. Instead of spending his "worst birthday ever" all alone, these forces catapult him into a whole new adventure.
Shapes is a modern approach to the challenges many young readers face; cyberbullying, single-parent households, academic stressors, and social interactions play into Tripp's story in believable ways. It will feel authentic to readers, and boasts outstanding art and a cliffhanger that will have them ready for the next issue.
Christmas morning is the perfect time for self-aware robots to take over Ben and Katy's family home! What begins with a nefarious robot wreaking havoc around the house quickly escalates into full-blown mayhem that threatens the family Christmas, and the fate of the world. The entire family must work together to defeat the robots and thwart the evil scientists who created them. Byte-Sized has been accurately described as E.T.: The Extraterrestrial meets Gremlins, with Pixar-worthy art, and is a great example of the quality comics coming from independent publishers.
While the content of the story is appropriate for any age, its reading and interest-level are ideal for middle school readers. Robot enthusiasts will enjoy seeing these mini-bots morph from being bent on destruction to growing a moral conscience. Byte-Sized pairs science fiction, robots, evil plots, and humorous mysteries into a fun holiday adventure, and boasts a cliffhanger to keep readers engaged and wanting more. Back matter includes interesting perspectives from each contributor, offering readers insights into their creative endeavor.
In the year 2014, Yasmeen is a normal sixteen year old girl living in Iraq. What starts as a story about family life in an area of the world most young Americans rarely experience, it is quickly upended by ISIS' takeover of the government and the impact on Yasmeen and her family. Ahmed and Mascolo present a gripping perspective of the actual day that changed everything for them and the people of Iraq, and the ripple effects felt all the way in a small town in Idaho.
Although not depicted gratuitously, violence is inherent to the subject matter, making Yasmeen appropriate for mature teen readers and above. The first issue delivers a gut punch, and the full story is an ideal discussion starter for a variety of topics, including family dynamics; bad things happening to good people; religious and cultural differences; and what it feels like when your future is unceremoniously ripped away in the blink of an eye.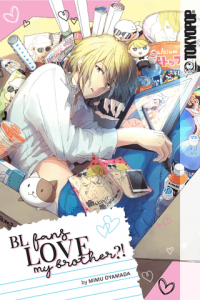 Sibling bonds are completely reimagined when college freshman Kirika finds out that her seemingly uninteresting older brother, Teruo, lives a secret life as a boys love artist sensation with a huge fan following. His exploding popularity leads Teruo to seek Kirika's management help, catapulting them both into a world of sweaty fandom, convention life, and escalating mayhem.
Like the title implies, this manga explores LGBTQIA+ themes and adult situations as the siblings explore their identities, both as individuals and as a duo, and define their public and private personas in a light hearted but illuminating tale. The twisty drama and over the top emotions are icing on the cake!
Engage, Excite, Circulate!
With Comics Plus, students and library patrons can have access to thousands of age-appropriate digital comics, graphic novels, and manga. Learn more at comicsplusapp.com and sign for a free demo account.