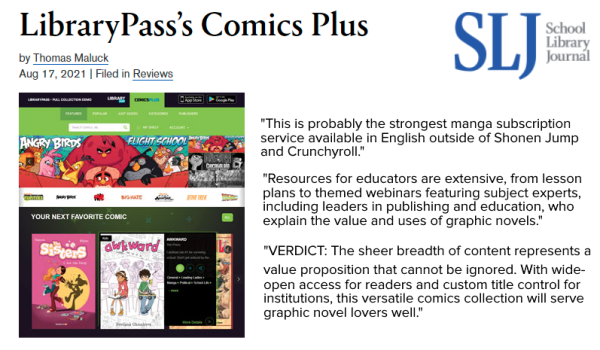 School Library Journal, the premiere publication for librarians and information specialists who work with children and teens, reviewed Comics Plus in their August 2021 issue and gave it a glowing review!
They not only recognized the thousands of great comics, graphic novels, and manga our 100+ publisher partners make available to libraries and schools for affordable unlimited, simultaneous access, they also noted our growing wealth of resources to help drive engagement and circulation.
"This is probably the strongest manga subscription service available in English outside of Shonen Jump and Crunchyroll."
"Resources for educators are extensive, from lesson plans to themed webinars featuring subject experts, including leaders in publishing and education, who explain the value and uses of graphic novels."
"VERDICT: The sheer breadth of content ­represents a value proposition that cannot be ­ignored. With wide-open access for readers and custom title control for institutions, this versatile comics collection will serve graphic novel lovers well."
Thanks to our 1,500+ library and school customers for sharing Comics Plus with their readers before it was cool!
For more information about Comics Plus sign up for a FREE demo at comicsplusapp.com, follow us on LinkedIn, or contact us at info@librarypass.com.