Free Comic Book Day (FCBD) is an annual celebration of local, independent comic book stores in the United States, Canada, and around the world. It originated in 2002 and is typically held on the first Saturday in May, but it is celebrating its 20th anniversary on August 14, 2021 as a result of disruptions related to the COVID-19 pandemic.
Each year, publishers apply to provide comic books at cost to participating retailers, who in turn give them away for free to anyone who visits their stores on Free Comic Book Day. Diamond Comic Distributors handles marketing and logistics, shipping comics to shops and handling marketing and PR for the annual event.
While Free Comic Book Day is specifically a celebration of local comic shops, libraries can sign up to participate and receive comic books and promotional materials to host events in communities where local comic shops are not easily accessible. You can learn more about their Free Comic Book Day Library Partner Program at freecomicbookday.com.
---
Free Comic Book Day in Your Library or School
Whether you're fully participating in Free Comic Book Day this year or simply want to support local interest by incorporating comics into your readers' advisory service, we've created a variety of resources to help you get the most out of Comics Plus.
With Comics Plus, our simultaneous, unlimited access model means your readers can borrow thousands of comics, graphic novels, and manga every day — exploring our diverse collection of titles from 100+ publishers without worrying about holds, wait lists, or monthly limits.
Our Free Comic Book Day 2021 Readalikes collection features great titles related to our publisher partners' official FCBD offerings, including Ablaze, Archie, AWA, BOOM! Studios, Dark Horse, Dynamite, Kodansha, IDW, Junior Yen, Papercutz, Scout, and Valiant. We've also curated a broader selection of readalikes from some of our other publisher partners in the collection to ensure there's something for every interest.
Engage, Excite, Circulate!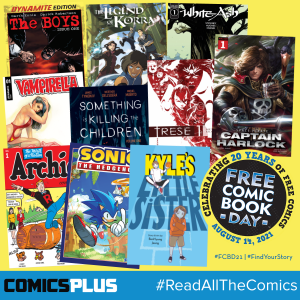 Free Comic Book Day is an excellent opportunity to engage the comics fans in your community, introduce non-comics fans to some great reads, and partner with local comics shops and/or creators to build awareness and excitement for your comics collection.
To help you promote your Comics Plus collection to readers before, during, and after Free Comic Book Day, we've created a variety of marketing resources aligned with your specific package, along with a helpful guide for hosting your own FCBD event—physical or virtual.
If you have questions about hosting comics-related events and/or using Comics Plus, don't hesitate to contact us at info@librarypass.com.
If you're not currently offering Comics Plus in your library or school, learn more at comicsplusapp.com and sign up for a free demo account.