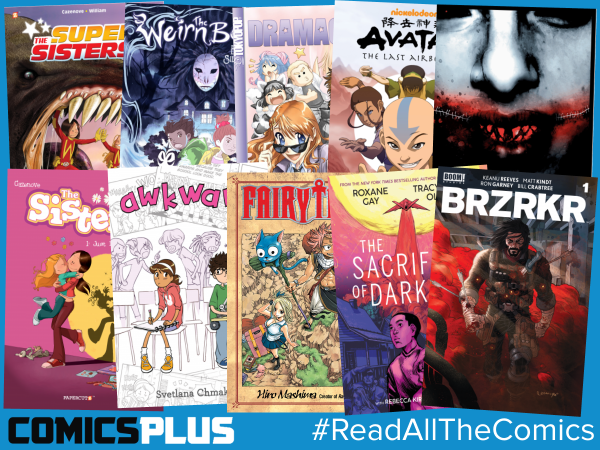 Keeping avid young readers busy with age-appropriate books that they'll enjoy can be a challenge, especially during the long Summer break. Reading bestsellers and re-reading favorites can be fun, but it can also create fatigue and diminished interest as other media offer more varied options. Meanwhile, finding relevant recommendations can be a daunting task if you're not an avid comics reader yourself.
We've curated the "Your Next Favorite Comic" collection to help readers discover comics that will be familiar and of interest to fans of popular titles and series like The Baby-Sitters Club, Dork Diaries, Sisters, Avatar, My Hero Academia, and Naruto, and creators like Raina Telgemeier, Roxane Gay, and Keanu Reeves.
The Sisters, by French creative duo Cazenove and Maury, asks the universal question: How is it possible to love someone so much, but also constantly consider shipping them across the country on a one way journey? Maureen and her big sister Wendy aren't unique in this way, siblings who share a family and a life but are constantly teetering between love and short-lived malicious intent. "Just Like Family," the debut title in The Sisters series finds them in breezy, slice of life adventures told at a nice pace and easy reading level. The bubbly artwork makes it feel like a Sunday newspaper cartoon.
Fans of Raina Telgemeier's Sisters, and series like Dork Diaries and The Baby-Sitters Club, will respond favorably to the style and tone, and there's eight total volumes waiting to be discovered, including the imaginative spinoff, The Super Sisters.
On the very first day at her new middle school, Peppi breaks one of her own rules for social success: Don't get noticed by the mean kids. Unfortunately, literally tripping over nerdy Jaime causes Peppi to pick a rude shoving over social suicide. The story, of course, forces Jamie and Peppi together in awkward ways, and Peppi must decide between being a good person and risking becoming an outcast like Jamie. Variations of this story are often told, but this one is particularly sweet, funny, relatable and loaded with diverse, three-dimensional characters. The art and text combine to bring the story to life, while being simple enough to enjoy on a hot summer afternoon.
Part of the Berrybrook Middle School series, Awkward is great for readers who enjoyed The Sisters or Babymouse and are ready for a middle school point of view. Writer/artist Svetlana Chmakova has a number of other popular titles for tween audiences to relate to and engage with, including Dramacon and The Weirn Books.
Set in a world that similar to Harry Potter's but with cartoon violence and cutesy sexuality like Who Framed Roger Rabbit?, Fairy Tail is a fun, long-running manga series for teens by Hiro Mashima. Fairy Tail is a club for powerful wizards, and Lucy wants in; instead, she finds herself at the mercy of a pirate gang. Having to rely on Natsu, a hero for the rest of us—he suffers from motion sickness, social awkwardness and over-eating—Lucy's adventures get wild even as her goals become further from her reach. Mashima's black and white artwork illustrates the action well, and there is plenty of it!
Great fun for experienced and novice manga readers alike, fans of Avatar: The Last Airbender, My Hero Academia, and Naruto will especially have enjoy this popular Shonen series. Plus, there's more than 50 volumes to story, including a few spinoffs and a sequel, to keep them reading throughout the summer and beyond.
When miner Hiram Hightower flies his airship into the sun and brings about unending darkness, he leaves behind social inequity and societal clashes that heighten as humanity struggles to survive. Parallel past-present romances play out between Hiram's son Joshua and Bear, from the community's wealthy family, and Hiram's own romance with Joshua's future mother, Mara. The past romance is almost a fairy tale, while the modern one is complicated by Joshua's being an outcast because of his father's actions. The artwork is unparalleled, believably illustrating the darkness of the times with heavy use of blacks, browns, and shades of orange.
An adaptation of New York Times bestselling author Roxane Gay's short story, "We Are the Sacrifice of Darkness," this standalone graphic novel is brought to life by Gay and co-writer Tracy Lynne Oliver, artist Rebecca Kirby, and colorist James Fenner. The creative team fleshes out the original short story without any unnecessary filler, and young adult fans of sci-fi and post-apocalyptic stories such as Sweet Tooth and Monstress will enjoy this title.
Those who love the dark, twisty and insatiable violence in modern action comic series such as 30 Days of Night and Something is Killing the Children—and of course, fans of Keanu Reeves—will have fun on the wild ride that is BRZRKR #1. Shameless pandering begins on the first page where readers are treated to a variation of sad Keanu sitting on a bench. But this Keanu, simply known as Berzerker, is a half-mortal, half-God hybrid compelled to ultra-violence. Not only will he annihilate his enemies on his quest for vengeance, Berzerker will liberate your spine from your carcass, despite his agency begging him to leave survivors. The art is heavy with black, outlined mainly in black, blue and red—so much blood!—and fits the story's brooding tone.
That there is nothing particularly new on offer (thus far) in the BRZRKR series should not be an impediment to loving it. The brand new series has become popular very quickly, generating buzz among adult indie comics readers, the perfect audience for this latest entry in Keanu-loving, bloody good fun.
Engage, Excite, Circulate!
With Comics Plus, students and library patrons can have access to thousands of age-appropriate digital comics, graphic novels, and manga. Learn more at comicsplusapp.com and sign for a free demo account.