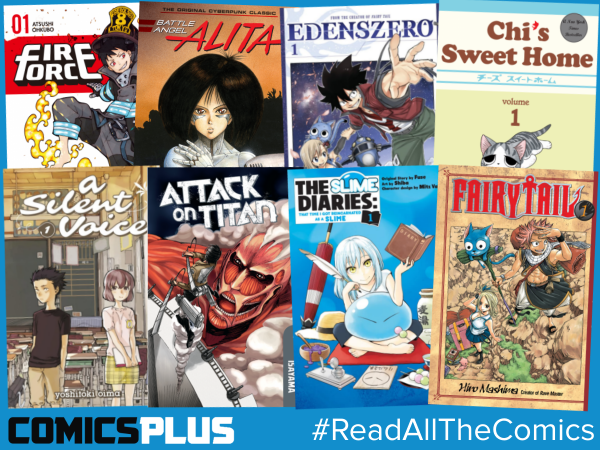 LibraryPass, Inc. has announced a distribution agreement with Kodansha USA Publishing, a subsidiary of Japan's largest publishing company, to make its digital catalog of manga available to libraries and schools through Comics Plus. With Comics Plus, readers can borrow thousands of digital comics, graphic novels, and manga from their school or library—with unlimited simultaneous access for online and offline reading.
Kodansha USA Publishing is the English-language publisher of some of the world's most recognizable manga properties, including Attack on Titan, Fire Force and EDENS ZERO, and also publishes Japan-based fiction and non-fiction books.
"With increased interest in Manga around the world we're proud to be able to offer an expanding catalog of our digital manga to libraries and their customers," said Yae Sahashi, Kodansha USA Publishing, VP Sales & Marketing. "We are thrilled to offer fan-favorite and critically acclaimed Kodansha titles like Attack on Titan, A Silent Voice, and That Time I Got Reincarnated as a Slime, to readers clamoring for more manga. And we see this partnership with LibraryPass as an amazing way to engender and grow manga readership in libraries, schools, and beyond."
"Manga is by far the most requested category from our customers, so we're thrilled to partner with one of the largest manga publishers in the world to make their titles available to libraries and schools with unlimited, simultaneous access for readers," said Guy LeCharles Gonzalez, LibraryPass' Chief Content Officer. "Kodansha has an impressively diverse catalog of titles for every age range and interest, and we'll have nearly doubled our manga collection to approximately 3,000 titles by the end of the summer."
Kodansha's backlist in Comics Plus will grow steadily throughout the summer as more than 1,000 titles are being added to the collection, with more than 200 titles available now, including popular series like Chi's Sweet Home, FAIRY TAIL, Attack on Titan, and Battle Angel Alita.
In conjunction with Kodansha's signing, Comics Plus has added manga-specific categories like Kodomomuke, Shonen, Shoujo, Seinen, Josei, and Yaoi / Yuri, which will make it easier for manga fans to dive deeper into the collection after reading their favorite series and discover new favorites.
For more information about Comics Plus sign up for a FREE demo at comicsplusapp.com, follow us on LinkedIn, or contact us at info@librarypass.com.