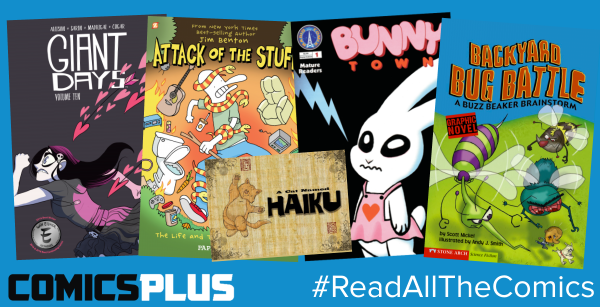 Hot summer days are perfect for easy leisure reading. For school-aged readers, encouraging independent reading can ensure they remain engaged with learning, reading, and exploring throughout the summer. Adult readers are often looking for a break in the summer, too, and can also be guided to a variety of choices that suit their interests.
From mysteries and spooky reads to animal adventures and superheroes, Comics Plus' curated lists have recommendations for every interest and age range.
Check out our latest list, Silly Reads to Tickle Your Funnybone, for a variety of humorous selections—all available for unlimited, simultaneous access in Comics Plus.
Haiku is both a form of Japanese poetry and, in this endearing story by Mark Poulton and Dexter Weeks, an adorable cat. Putting the "'cat' in "catastrophe," the story follows a day in the life of Haiku, told entirely in haiku form, first person (or first animal?) narrative. Poulton and Weeks are both cat owners, and the latter is even a character—or an obstacle to kitty debauchery, really—in the naughty kitten's story.
Featuring short sentences, large print, plenty of wordless picture pages, and antics similar to the popular No, David! series, A Cat Named Haiku is an accessible graphic novel for emerging readers, and a fun read for all ages, especially cat lovers.
When a series of household science experiments leads to an onslaught of giant bugs taking over the backyard, young scientist Buzz Beaker and his friends have to take fast action against them.
It can be difficult to balance a coherent, interesting plot with relatable characters while also offering accessible vocabulary and age-appropriate illustrations for younger readers, but Scott Nickel and Andy Smith pull it off. This breezy, buzzy read checks the kid-favorite boxes of science, creepy bugs, cool inventions, humor, and imagination, and is one of several series from Capstone that young readers will love.
If you've ever wondered what your household appliances think about, Bill Waddler knows. For better or worse—usually worse—Bill is a duck with the "gift" of hearing appliances. This fast-paced read introduces the concept immediately as Bill wakes up to his toilet lamenting about its dreams of stardom. From there, it gets weirder!
Bill has a job selling hay, which, although unfulfilling to him, brings lots of punny interactions with similarly personified animal friends. Cartoonist Jim Benton is known for popular titles including the Franny K. Stein series, Catwad, and Dear Dumb Diary. Attack of the Stuff is a fun one-off entry for Benton fans and newcomers.
The common troupe of young adults in their first year of university, seeking reinvention, is refreshed in Giant Days through the fast friendship that develops between roommates Susan, Esther, and Daisy. Their new start immediately becomes complicated by the quick spread of influenza, the appearance of a mysterious old flame with a complicated history, and a lot of youthful "experimentation" — but the friendships are endearing and enduring through it all.
John Allison, Lissa Treiman, and Max Sarin deliver a delightful coming-of-age read for young adults. The characters are all fleshed out in a way that makes them feel like friends you had as a teenager, and their relationships with one another feel authentic, and Treiman and Sarin's artwork captures individual quirks in outfits, facial expressions, and body language. This series is a treat for older teens and adults alike.
What's black, white, and red all over? The violent neighborhood of Bunny Town!
Lonely Rabbit is new in town and immediately welcomed by the inexplicably land-walking great white shark, Malibu. Malibu introduces Lonely to his friends, Bollo and Blacksie, who quite shockingly demonstrate why there are no rabbits in Bunny Town. The surprises, and the disappointments for poor forlorn Lonely, certainly don't end there. This short read by Will Allison features simple, black and white illustrations, but despite the cute name and cover, is appropriate for mature readers who are looking for a darkly humorous read.
Engage, Excite, Circulate!
With Comics Plus, students and library patrons can have access to thousands of age-appropriate digital comics, graphic novels, and manga. Learn more at comicsplusapp.com and sign for a free demo account.