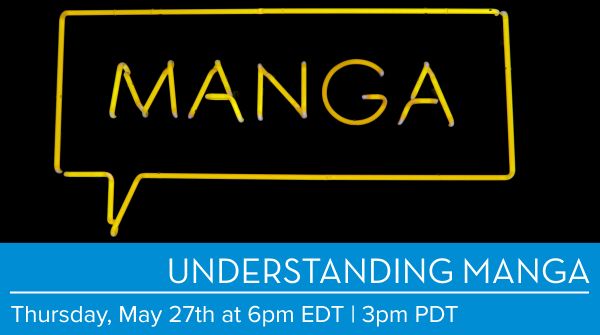 Manga is a global phenomenon with sales and readership that dwarfs superhero comics and rivals non-comics bestsellers. In schools and libraries across North America, manga has been flying off physical and virtual shelves for years—driving circulation, encouraging independent reading, and even finding its way into classrooms with classic adaptations and innovative nonfiction.
What is it about manga that makes it so engaging to readers of all ages? Why is it an effective tool for engaging readers of all abilities? How do you know which titles to add to your collection?
Join us on Thursday, May 27th at 6pm EDT (3pm PDT) for this free webinar where our panel of experienced educators and librarians—Mike Barltrop, Jillian Ehlers, Michael Gianfrancesco, Ashley R. Hawkins, Kat Kan—will share their insights on everything you need to know about manga.
The 60-minute presentation will be moderated by Reading With Pictures' John Shableski and will include a live Q&A segment where our panelists will answer attendees' specific questions submitted via the registration form and during the session.
NOTE: A Certificate of Completion will be available to those who attend this webinar.
PANELISTS
Source: Photo by Ashley Jurius on Unsplash.