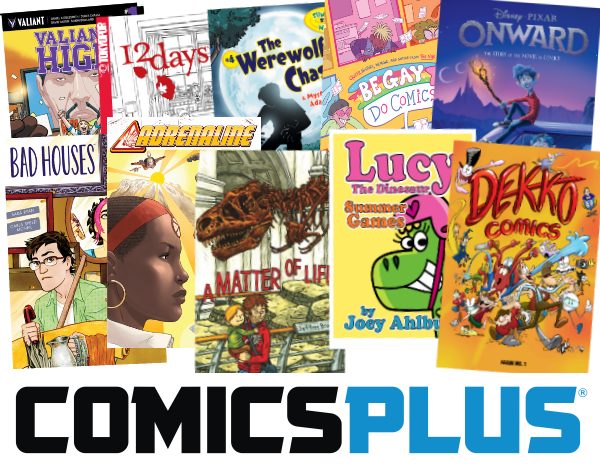 Whether you are looking for a dishy beach read, something easy for vacation / staycation lounging, or your next favorite book to share with friends—summer is an ideal time to expand your reading options. Summer reading programs can encourage leisure reading, combat the dreaded "summer slide," and bring communities together in a way that is unique to any other season.
If a formal summer reading program is on your agenda, or you just want fun readers' advisory recommendations, Comics Plus' curated list of Summer Reading Picks has fun and engaging recommendations for everyone. From readalikes for popular kids' favorites to hot picks for more mature readers, you'll find titles that engage and excite readers of all ages and interests.
Summer Games is a fun, quick read about all things outdoors. Lucy and her prehistoric friends are taking advantage of sunshine and free time to learn new sports. Roller skating, skateboarding, and scooter obstacle course racing—this crew is getting active and will inspire young readers to do the same. Vivid illustrations bring this light read to life, and fans of Mo Willems will recognize the art style of collaborator and Sesame Street alum, Joey Ahlbum. 
Using large print and simple words, Ahlbum's Lucy the Dinosaur series is great for younger readers, helping move them from traditional early reader books to more complex comics and chapter books.
Dekko Comics #1 is formatted similar to an activity book with a variety of interactive learning exercises on each page. Some are extremely detailed and can keep a reader engaged for several minutes, while others are short forays in humor and learning. Back matter showcases subjects learned from the text and puzzles that could be printed for classroom or home use. 
Dekko's stories represent humor and adventure to readers, but are designed to be educational and are highly recommended for use in summer reading programs. With subjects ranging from math to language building skills, they are ideal for those struggling with conventional reading, including dyslexic and autistic learners. The full series is an excellent complement to traditional textbooks and can help sustain intellectual growth throughout the summer and into the new school year.
Saida is an African doctor and a strong minded individual who isn't about to let Alex ride off in luxury after an illegal hunting trip in Saida's village. Catching up to his helicopter just as it takes off, Alex's guards knock Saida out and when she comes to, he has a proposition: partner with him for a reality show and he will send her back to Africa with all the funding she needs to support her struggling medical clinic. The plot manages to avoid minimizing socioeconomic, gender, and racial themes by calling them out early and often, setting a good balance for readers to explore. With violence appropriate to both the subject matter and teen audience, Adrenaline is packed with action, a well-executed plot, and satisfying conclusion.
Written by the husband and wife team of Tyler and Wendy Chin-Tanner—the latter of whom is a sociologist who specializes in the topics of race, identity, and culture—Adrenaline is a page-turner that explores those themes. This collected edition includes all eight issues of the original series, and is one of several titles from A Wave Blue World that mix action adventure and social justice.
At its core, Bad Houses is a love story, but it's built on a foundation that explores life, death, and all the "stuff" we acquire in between. Lewis runs his mother's estate sale management business, a depressing shop in the aptly named small town of Failin, Oregon, where junk hoarders and serious antique collectors flock to pick at forgotten treasures. It is at an estate sale where he crosses paths with Anne who is there to pluck specific treasures for her obsessive hoarder mother. The metaphor of a "bad house," or an estate that is difficult to manage, stands as a parallel to the differing types of dysfunction Anne and Lewis face in their upbringings. 
Young Adult novelist Sara Ryan (The Rules for Hearts; Empress of the World) successfully creates believable, empathetic characters even when some are intentionally unlikeable. Eisner and Ignatz award-winning writer and illustrator, Carla Speed McNeil, brings the quiet story to life with equally quiet, yet expressive and provocative, black and white illustrations. Bad Houses is perfect for long, hot summer days when you need a satisfying read.
A Matter of Life is drawn in Jeffrey Brown's characteristic cartoon style, with muted colors and heavy shading which some readers may recognize from bestselling Star Wars: Darth Vader and Son and Jedi Academy series. This story is for older readers, offering a first-hand exploration of life as the middle generation, caught between his strict minister father and his imaginative preschool age son. The intergenerational conflict is exemplified through episodes such as Brown's "coming out" to his parents as an Atheist, dealing with guilt both external and self-imposed.
There are heart-wrenching moments like Brown's grief over his grandfather's death, served alongside humor generated from awkward life experiences, like playing with a drunk cricket. A nice adult read for lazy days in the yard or on the beach. 
Engage, Excite, Circulate!
With Comics Plus, students and library patrons can have access to thousands of age-appropriate digital comics, graphic novels, and manga. Learn more at comicsplusapp.com and sign for a free demo account.