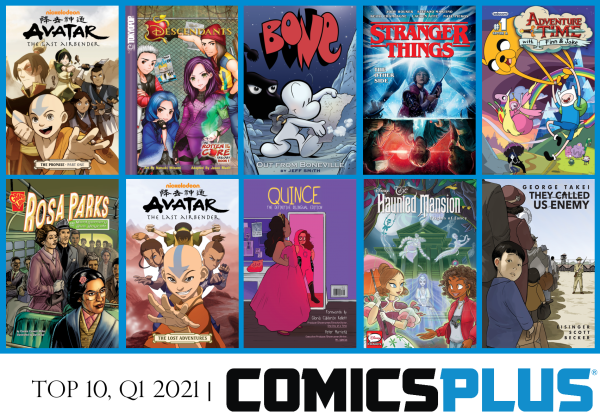 Reinforcing our belief that there is more to comics than Dog Man and superheroes, memoir, LGBTQ, and manga were the most engaged categories in Comics Plus, driven by popular titles like Dark Horse's Avatar: The Last Airbender and The Legend of Korra, and IDW's They Called Us Enemy. Titles in those categories were checked out more than three times the average during the first quarter of 2021.
We're not surprised by the broad range of titles and categories that are circulating well in Comics Plus. Digital content is expensive for libraries and schools, but our publisher partners support our mission to make immersive digital content both accessible and affordable. With a deep backlist that isn't artificially limited by expensive single-user licenses, you see a broader mix of titles circulating as new readers discover 'old' titles, and avid readers catch up on what they may have missed.
Partly thanks to Netflix introducing it to a new generation of fans, Dark Horse's Avatar: The Last Airbender – The Promise Part #1 was the most popular title in LibraryPass' Comics Plus collection in the first quarter of 2021. First published in 2012, the title is the gateway into the Avatar and The Legend of Korra series which is the most popular in the collection.
In a single-user model, meeting demand for a popular series like Avatar, or a category like manga, is impossible for most libraries and schools. Having those titles available in Comics Plus means they can promote them without worrying about breaking their budget while also offering a variety of readalikes also in the collection.
Top 10 checked out titles in Comics Plus, Q1 2021
Avatar: The Last Airbender – The Promise Part #1 (Dark Horse)
Disney Descendants: Rotten to the Core Volume #1 (Tokyopop)
Bone Volume #1: Out From Boneville (Cartoon Books)
Stranger Things: The Other Side (Dark Horse)
Adventure Time #1 (BOOM! Studios)
Rosa Parks and the Montgomery Bus Boycott (Capstone)
Avatar: The Last Airbender – The Lost Adventures (Dark Horse)
Quince: The Definitive Bilingual Edition (Fanbase Press)
Haunted Mansion: Frights of Fancy (IDW)
They Called Us Enemy (IDW)
---
Thanks to Avatar and Tokyopop's Disney Descendants, manga was one of the most popular categories in Comics Plus, but Memoir and LGBTQ saw even more engagement based on average checkouts per title which were three times higher than average for all three categories.
Memoir was driven by award winners like They Called Us Enemy and the March trilogy, as well as Zuiker Press' series of social emotional graphic novels which have found avid readers in schools and libraries. The LGBTQ category was driven partly by the popularity of The Legend of Korra and They Called Us Enemy, as well as Tokyopop's Alter Ego and Zuiker's Identity: A Story of Transitioning.
Comics Plus grew to serve nearly 1,500 schools and libraries across the United States, Canada, and Europe in the first quarter of 2021, offering millions of readers unlimited simultaneous access to a deep backlist of thousands of digital comics, graphic novels, and manga. More than 100+ library-friendly publishers support LibraryPass' mission to offer high-interest, immersive digital content without breaking their materials budget.
For more information about Comics Plus sign up for a FREE demo at comicsplusapp.com, follow us on LinkedIn, or contact us at info@librarypass.com.