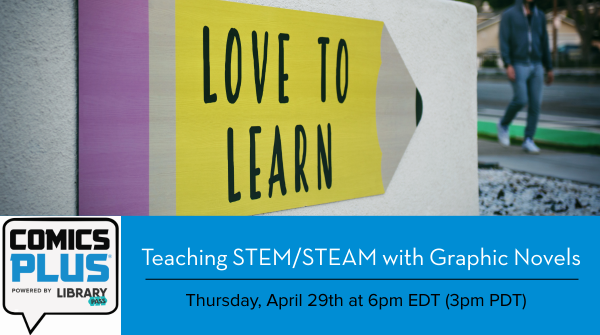 Education isn't simply rote memorization, and STEM education (Science, Technology, Engineering, Mathematics) focuses on teaching skills and subjects by integrating subjects for a more practical approach. The addition of the Arts — STEAM — gives the comics medium a perfect footing that allows students of all abilities to visualize subjects in more engaging ways.
Join us on Thursday, April 29th at 6pm EDT (3pm PDT) for this free webinar where our panel of experienced educators and librarians—Dr. Shari Brady, Tracy Edmunds, Jim Ottaviani,  C.A. Preece—will share insights on their discovery process and results from using graphic novels to teach STEAM programs. Attendees will learn how to research ideas for key subjects; find academic resources that support their efforts, and tools for students to use in creating their own STEAM–centric stories.
The 60-minute presentation will be moderated by LibraryPass' John Shableski and will include a live Q&A segment where our panelists will answer attendees' specific questions submitted via the registration form and during the session.
Panelists
Source: Photo by Tim Mossholder on Unsplash.