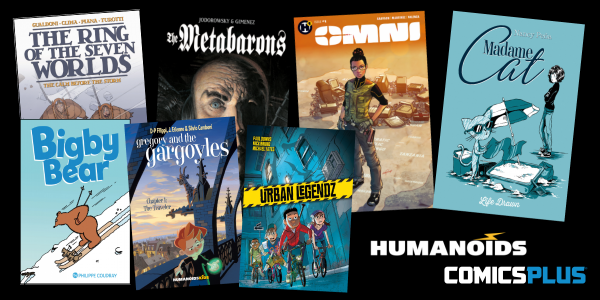 LibraryPass has announced a distribution agreement with Humanoids to make its digital catalog available to libraries and schools through Comics Plus. With Comics Plus, readers can access thousands of digital comics, graphic novels, and manga through their school or library—with unlimited simultaneous access for online and offline reading.
Founded as Les Humanoïdes Associés in the early 1970s in Paris by a group of creators, including the incomparable Jean "Mœbius" Giraud, Humanoids has published some of the most important comics — both across European and U.S. aesthetics — of the 20th century, including the acclaimed Métal Hurlant magazine, or seminal graphic novels such as The Incal or The Metabarons. Creators and exemplary storytelling have always been the heart of Humanoids, and its catalog spans a varied collection of genres and age levels: science-fiction, thriller, comedy, horror, children's, fantasy, action, adventure, and more, by some of the most talented and celebrated artists and writers in the graphic novel field.
"We are thrilled to offer libraries and schools unlimited, simultaneous access to Humanoids' impressive catalog of graphic novels," said Guy LeCharles Gonzalez, LibraryPass' Chief Content Officer. "They're an innovative publisher with a strong backlist, and they have exciting plans to expand their offerings for children and young adult readers."
"Likewise, we are very happy to be partnering with Moni Barrette and the team at LibraryPass, and to have the opportunity to increase our digital reach, particularly in the library and academic segments, which we feel are vital to publishing and culture as a whole," said Alex Donoghue, Humanoids' COO of US Operations.
Humanoids' full catalog of more than 500 titles will be available through Comics Plus by June 2021, and more than 50 are available now, including Bigby Bear, The Ring of the Seven Worlds, and Urban Legendz.
For more information about Comics Plus sign up for a FREE demo at comicsplusapp.com, or contact us at info@librarypass.com.