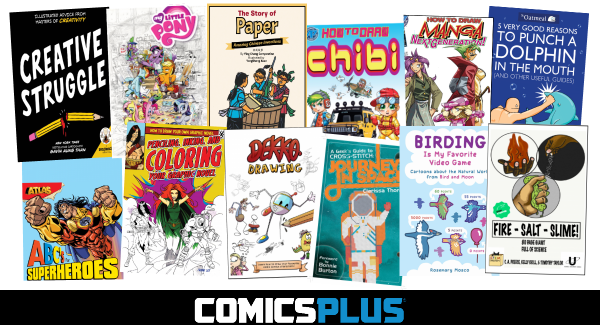 Reading is fundamental—as the saying goes—but it's not the only effective means of learning. Adapting to multiple learning styles is an important component in meeting students where they are, and maximizing learning outcomes. Comics can ease readers into new subject matter while building their confidence, reading comprehension, and critical thinking skills. They also help foster a joy of reading which can level the academic playing field.
Beyond their educational value, comics also inspire readers to find their own voices. One of the most common 'side effects' of reading comics is telling one's own stories—sometimes with their favorite characters, or original creations—building their own worlds to explore and share.
Whether you have an elaborate makerspace or a single Chromebook, collaboration and artistic expression are amazing ways to explore key concepts beyond traditional educational media. When combined with a visual medium that readers already love, like comics, there is no limit to how much enrichment can come from a craft activity, art project, or science experiment.
Our Get Inspired, Get Creative! list of recommended titles will help spark creativity and imaginative learning, whether you are working in-person or in virtual environments.
With large illustrations, clear, colorful backgrounds, and bold, easy to read text, this serves as a wonderful starter comic for early readers. Young superhero fans will delight in the cartoonishly musclebound Atlas, his fun origin story, and entertaining use of the alphabet. In lieu of illustrating violence, Atlas engages a supervillain through the letters K-O (Kick, Laser, Muscles, Never give up, and Ouch).
Humor is infused throughout this quick read, and it is a wonderful addition to any list of books focused on teaching the alphabet and how to read, or interactive storytimes.
This essential guide includes comprehensive chapters on basic drawing tools and concepts of proportion and perspective, before diving into the details of penciling, inking, coloring, and shading. It reads like a book of secrets nobody tells you before starting your first graphic novel, but you should absolutely know them. The step-by-step instruction leads to exhilarating results as simple pencil lines become fully actualized characters which evolve into a vibrant whirlwind of imaginative creativity. This is a great jumping off point for all ages with extensive back matter which includes a glossary, additional resources, recommended websites, and an index.
Seeing the process unfold on the page is an adventure itself, while achieving the end result will take a lot of practice that can be encouraged in makerspace activities.
"I am a geek. That means I give myself permission to love things with total abandon. I actively seek out ways to express that love, and I have found that there is no medium unworthy of sharing my obsession with the world."
The foreword by creator Clarissa Thorne speaks not only to our inner geek, but also emphasizes why exploring creativity through comics is a great way to express ourselves and grow. It starts with Stitch Camp which includes an explanation of cross-stitch itself, what tools are needed, and where to acquire them. How-to descriptions are accompanied by photographs that make the whole process feel very manageable. It gets really exciting when it gets to Mission Schematics, at which time we blast off into outer space complete with cosmic patterns, design tips and mission narration.
This base camp setting creates a fun collaborative environment for group projects. Cross stitch novices and experienced stitchers alike will enjoy sharing their progress, ideas and challenges. There are multiple Mission patterns, giving space for independent choices while working towards a shared collective outcome.
From the comedic mind of The Oatmeal's creator, Matthew Inman, comes this "guide" of both the practical and inane. Should we be taking life advice from such a light-hearted source? At this point, a little levity simply can't hurt.
While on its face, some suggestions feel purely humorous, others turn out to be head-scratchers that will stick with you, and possibly turn out to be pretty decent advice. Topics range from the far-fetched, like how not to die while giving a bear a haircut—or bearcut, if you will—to legitimate lessons on how to properly use contractions, the origins of cheese, the science of bacteria, and so much more, all illustrated with crackpot cartoons.
An enjoyable read on its own, 5 Very Good Reasons to Punch a Dolphin in the Mouth can also be used in classrooms and makerspaces as participants will have fun illustrating and sharing their own advice and observations.
This series begins with the very, essential basics. Black and white throughout, the focus is kept on the content and the how-to instruction. Starting with an explanation of Manga art paper, the text interweaves the history and origins of Manga as an art form in a very natural flow with the step-by-step instructions. Everything from pencil type recommendations to the essentials of Manga eyes and expression portrayal are covered.
Accessible to most readers as the concepts are broken down for easy understanding, the art style includes detailed anatomical artwork and is recommended for older Teens already familiar with more mature Manga titles. That said, How to Draw Manga: Next Generation could be presented to a class, or handed to a teen, and can be easily followed to create basic Manga characters from start to finish.
Practical exercises are included that could be used in partner or group work, in addition to the potential for virtual participation. Lessons on depth and perspective are included, making this a good overall resource for aspiring artists in various media.
Engage, Excite, Circulate!
With Comics Plus, students and library patrons can have access to thousands of age-appropriate digital comics, graphic novels, and manga. Learn more at comicsplusapp.com and sign for a free demo account.