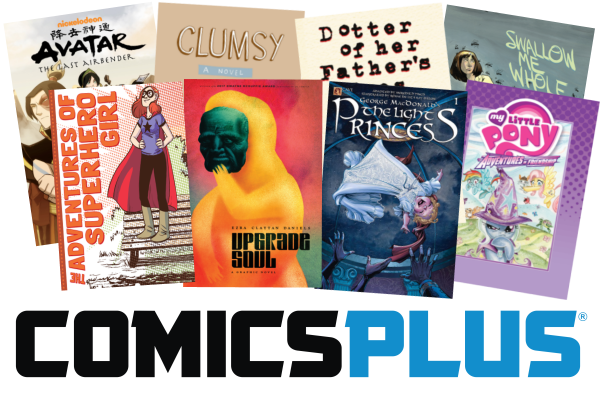 In the comic book industry, individual creators—writers, illustrators, inkers, letterers, colorists, and everyone else involved in bringing new, immersive art to life—can become popular celebrities with a single commercial success or major award recognition. Many well-known creators have their own fandoms who will stand in line for hours at signings; overflow large conference rooms at Comic Cons; drive robust online conversations about their work; and even help generate lucrative film and television deals for their beloved creations.
While most readers are familiar with popular comics creators like Neil Gaiman, Alan Moore, Dav Pilkey, and Raina Telgemeier (and their most popular works), they're often surprised to learn about or revisit their lesser-known backlist titles. There are also literally hundreds of similarly talented up-and-comers who are publishing great new stories they'd enjoy just as much as the classics if only they knew about them.
Did you know that…
Gene Luen Yang wrote several stories for Avatar: The Last Airbender?
Before collaborating with Rep. John Lewis on the March trilogy, Nate Powell wrote and drew the Eisner-Award-winning Swallow Me Whole?
Internationally acclaimed scholar Dr. Mary Talbot's Dotter of her Father's Eyes is the only British graphic novel to win a major literary award?
Mining backlist titles for popular creators is like digging for hidden treasure, and surfacing lesser-known creators alongside them is the heart of Readers' Advisory. Our Creator Spotlight: Classic Backlist & New-to-You Comics list does both, offering a curated combination of popular creators and up-and-comers—all available for unlimited simultaneous access via schools and libraries through Comics Plus.
Having written for Marvel, DC, Tokyopop and everyone in between, Barbara Randall Kesel is known for her advocacy of presenting strong female characters in comics. While she's deftly handled older-skewing franchises like The Dark Crystal and Aliens vs. Predator, her take on My Little Pony's Fluttershy will delight young readers. Fearing rejection, Fluttershy goes to extremes to enter Princess Celestial's art contest without anyone knowing it is her under a silly disguise. While "someponies" do make fun of Fluttershy's artistic attempts, the story is all about bravery, perseverance, and, of course, friendship.
Uplifting, colorful and perfectly silly, Kesel nails the fundamentals of what makes the long-running My Little Pony franchise so loveable.
With mainstream girl-power titles to her credit such as Xena, Wonder Woman, and Catwoman, The Light Princess represents less flashy fare for Meredith Finch. Desperate for an heir, the King and Queen are overjoyed to finally be able to christen their new princess, but in the classic fairy tale trope, the King's sister, Princess Makemnoit, has nefarious plans. What sounds almost humorous—cursing the baby to defy gravity—turns out to be a real dilemma when the princess is swept away with the faintest of breezes. While the art and story are as high quality as in any of Finch's other works, the real standout here is the lettering by Ray Dillon who has a font and character emphasis to suit every statement and mood. While that could easily detract from the action, in the right hands it's a reminder that letterers are also major players on the comics creation team.
This twist on edgier fairy tales introduces scientific concepts as the royals explore ways to reverse the curse, and the series—along with its supplemental study guide—is a worthy addition to any elementary classroom.
Known for her contributions to blockbuster series like Avatar, Lumberjanes, and Rainbow Rowell's Pumpkinheads, Faith Erin Hicks is a writer and illustrator to follow. Her popular series, The Adventures of Superhero Girl, is not only a fun read for teens, it's a solid readalike for titles like Guts and El Deafo. Winning the Eisner Award for Best Publication for Kids (ages 8-12) in 2018, the series infuses heart, humor, and young girl magic into a relatively tired superhero wasteland.
A fan-favorite among young readers who can see a bit of themselves in a superhero who has amazing powers but is still socially awkward at parties and struggles to pay bills—all while fighting inopportune ninja attacks. Superhero Girl is every girl!
Created by the Dwayne McDuffie Award for Diversity in Comics-winning Ezra Claytan Daniels, Upgrade Soul is a shot in the arm for lovers of sci-fi, horror, love triangles, or just plain great storytelling. More than a graphic novel, Upgrade Soul began as an immersive serialized story for iPhones and iPads in 2012, and was traditionally published by Lion Forge Comics in 2018. It has been featured in indie animation festivals; was named one of the best books of 2018 by multiple outlets; and is currently in development as a feature film.
Hank and Molly, a brilliant scientist duo plagued by the physical and mental toll of their aging bodies and minds, decide to undertake a revolutionary procedure to become their younger selves once again. Untested science plus unscrupulous medical practitioners leads the couple to awaken in a nightmare where their minds are duplicated inside what can best be described as… brilliant potato people with superhero strength. The unusual premise allows for unlimited exploration of morality, ethics, human emotions, and so much more, and is an ideal selection for teen (and adult) book clubs.
Before his contemporary series Star Wars: Jedi Academy started flying off middle grade library shelves, cartoonist Jeffrey Brown made his debut with the semi-autobiographical Clumsy. Tackling the painful awkwardness of a long-distance relationship while infusing snippets of relatable daily life, Clumsy is a quiet series of compiled cartoon strips made of simple black and white sketches.
While very obviously Brown's first book, its realism makes the story interesting enough to follow, as readers will relate to falling in love and having it tested over the strain of thousands of miles of distance between lovers. Told mainly through bedroom scenes, it's not a story for kids or young teens, but it is an enjoyable journey of emergence for a now bestselling author and illustrator.
NOTE: A version of this article was also published by Good Comics for Kids.
Engage, Excite, Circulate!
With Comics Plus, students and library patrons can have access to thousands of age-appropriate digital comics, graphic novels, and manga. Learn more at comicsplusapp.com and sign for a free demo account.