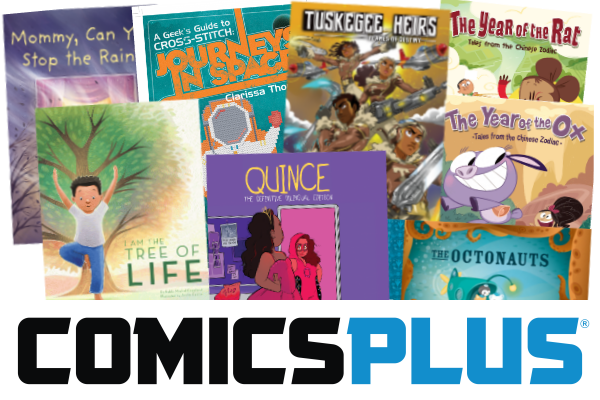 LibraryPass has announced new distribution agreements with several publishers to offer their digital content to schools and libraries through Comics Plus, including Apples & Honey Press, Exhibit A, Fanbase Press, Fun Academy Inc., Heir Apparent Publishing, Immedium, Kingstone Media, and UMC Ediciones. With Comics Plus, readers can access thousands of digital comics, graphic novels, and manga through their school or library—with unlimited simultaneous access for online and offline reading.
"Comics are an ideal medium to engage readers of all ages, and the interest in digital comics has never been greater," said Guy LeCharles Gonzalez, LibraryPass' Chief Content Officer. "Comics' steady growth in bookstores over the past decade has shown educators and librarians the value of adding them to their collections, enabling them to satisfy readers' demand and drive circulation. We're excited to add these amazing publishers' titles to our Comics Plus catalog and make them available for unlimited simultaneous access, removing one of the biggest obstacles libraries face in diversifying their collections — expanding access on a limited budget."
Apples & Honey Press brings together the best authors and illustrators from North America, Israel, and around the world to create memorable stories that illuminate the values of family, community, having fun, and being the best we can be. Their children's books are infused with the warmth of Jewish wisdom, and titles like Mommy, Can You Stop the Rain?, Worse and Worse on Noah's Ark, and I Am the Tree of Life go beyond wonderful storytelling to also show the ways in which the values important in Judaism are also important in helping us all become better people.
"Behrman House is delighted to partner our Apples & Honey Press imprint with LibraryPass and Comics Plus in order to help libraries in their search for a wide array of books that celebrate the broad diversity that exists within our American culture," said Vicki Weber, Partner.
Fanbase Press is an award-winning comic book publisher and geek culture website that spans the pop culture spectrum and gives voice to the themes, ideals, and people that make geekdom so exceptional. Their list of notable titles includes the 2018 Eisner Award-nominated Quince, the 2020 IPPY Award-winning Quince: The Definitive Bilingual Edition, and the 2019 IPPY Award-winning A Geek's Guide to Cross-Stitch: Journeys in Space.
"At Fanbase Press, we strive to share stories that will resonate with and positively impact as many readers as possible," said Barbra Dillon, Editor-in-Chief. "We're honored to connect with young readers through LibraryPass' partnership with libraries and schools, as we value the ability to share inclusive and meaningful stories that may inspire children and young adults towards a brighter future."
Heir Apparent Publishing is an independent company run by Greg Burnham and Marcus Williams, creators of the Kickstarter sensation, Tuskegee Heirs. Based out of Atlanta, the duo looks to fill a need in the comic book space by providing diverse characters and stories that relate to audiences all over the spectrum. What started as an idea in 2015, has blossomed into a fruitful franchise that now sees the team on the verge of releasing new comic and children's book projects.
"From kindergarten to college—I lived in the library," said Burnham. "It fueled my passions of reading, and eventually, writing. To now have our own content available in libraries and schools is just unreal. A dream come true!"
Immedium inspires a world of imagination and creates wonderfully entertaining children's books. Based in San Francisco, Immedium has published 50 books since 2005, including The Octonauts (which inspired the hit animated TV series), The Tales from the Chinese Zodiac (one of the longest-running children's series featuring Asian American characters), and That Girl on TV Could Be Me!, the first Spanish bilingual picture book about broadcast television. More than 40% of their titles feature multicultural themes and characters, while 25% are bilingual.
"We want to share our books with young readers wherever they are, and libraries and schools are the best places to do so," said Oliver Chin, Publisher. "Librarians and teachers appreciate how our diverse titles inspire children not only to read but also to create their own stories."
"LibraryPass is pleased to work with a variety of amazing, diverse, and dedicated publishers who truly understand the school and library market," said Moni Barrette, LibraryPass' Director of Collection Development & Publisher Relations and in-house librarian. "Comics are for everyone, and there is a comic for everyone. Our publisher partnerships allow Comics Plus to deliver great stories that engage readers."
For more information about Comics Plus sign up for a free demo account at comicsplusapp.com, follow us on LinkedIn, or contact us at mailto:info@librarypass.com.