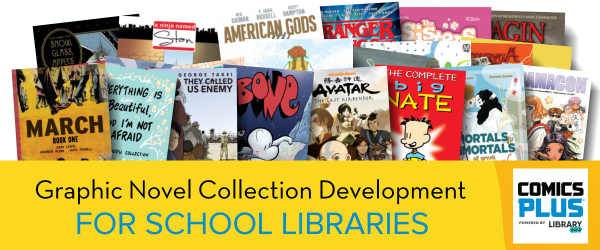 Adding popular graphic novels and manga to your school library's collection is a surefire way to drive circulation—but it can also bring scrutiny from parents and administrators who don't believe they're appropriate for young readers. Ensuring your collection development plan is up-to-date with your administration's goals and objectives is a critical first step to garnering support for your efforts.
Join us after hours on Wednesday, January 27th at 6pm ET (3pm PT) for this free webinar where our panel of experienced librarians—K.C. Boyd, Joy Harvey, Angie Mahalik, Cait Zaksheske—will discuss how to successfully integrate comics, graphic novels, and manga into your collection development plan.
How do you create age-appropriate collections?
How do you align collections to the curriculum?
How do you balance print and digital collections?
What is your selection policy?
Do you need a reconsideration policy?
The 60-minute presentation will be moderated by LibraryPass' John Shableski and offer insights on aligning your collection to support classroom instruction, while also meeting students' varied reading needs and interests. It will include a live Q&A segment where our panelists will answer attendees' specific questions submitted via the registration form and during the session.
NOTE: A Certificate of Completion will be issued to those who attend this webinar.
---
PANELISTS