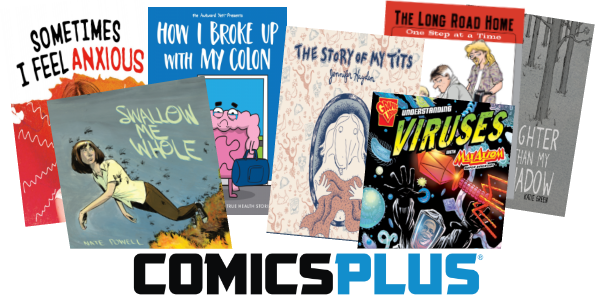 "Thanks in part to the medical humanities movement many medical schools will now have tutors suggesting students read classic literature or modern novels to gain insight into the human condition. I think [it] is high time that graphic fiction was taken as seriously."

—Dr. Ian Williams, Graphic Medicine
The term graphic medicine was coined by Dr. Ian Williams—comics artist, physician, and editor of graphicmedicine.org—to "denote the role that comics can play in the study and delivery of healthcare." Dr. Williams believes that comics can play a valuable role in reflecting or changing cultural perceptions of medicine, and helping other sufferers or carers, worthy goals in normal times, and even more so in the midst of a global pandemic.
Graphic Medicine encompasses a broad range of titles and health issues—Raina Telgemeier's Guts and Cece Bell's El Deafo are popular examples—and has become a common way to help young people understand and share how they're feeling, both mentally and physically. It can also help offset the stigma around concepts like anxiety, depression, and the physical issues created by mental stress. Artists have used comics to tell insightful stories about everything from cancer (Brian Fies' Mom's Cancer) and PTSD (Gary Trudeau's The Long Road Home), to eating disorders (Katie Green's Lighter Than My Shadow) and epilepsy (David B.'s Epileptic).
Comics Plus' collection of Graphic Medicine titles can help students of all ages better articulate their own physical and mental health, and foster empathy for others facing difficult circumstances.
What does it mean to be anxious? It's something that almost every parent and educator has to address with children at some point in their lives. This graphic nonfiction title is perfect for younger readers thanks to large print and simple words, including a glossary for new vocabulary. Readers get a clear definition of anxiety along with explanations of how anxiety feels, physically and mentally; how the body responds to it; and tips for talking about it with grown-ups.
While Sometimes I Feel Anxious doesn't read like a traditional comic, young readers will recognize the picture book style and be able to relate to the photographs of real children experiencing emotions, providing examples of concepts that support the text. A calming mindfulness activity is included which could easily be incorporated into home, classroom, or library use.
For those who have not yet encountered Max Axiom, Super Scientist, his series of graphic novels from Capstone's Graphic Science line is essential for classroom use. Maxwell J. Axiom, born to scientist parents, was struck by a mega-charged lightning bolt, granting him superintelligence, the ability to shrink to the size of an atom, sunglasses that provide x-ray vision, and a lab coat which allows him to travel through time and space. Max's adventures in science include everything from earthquakes and global warming to genetics and the digestive system.
Understanding Viruses is a particularly relevant title, breaking down concepts like where bacteria originate, what viruses do and how they are spread, and even the role of vaccines in keeping populations safe. Illustrations of complex concepts such as the inside of body defense systems and blood cell functions are made simple and interesting for young readers. Back matter includes detailed information about viruses and a glossary of terms.
If you're in the mood to be fascinated, humored and just a tad grossed out, this collection of 24 bizarre yet true medical tales by New York Times bestselling author/illustrator Nick Seluk is perfect. How I Broke Up with My Colon uses quotes to illustrate exactly how patients describe their medical conditions. Not only does this make the stories more humorous and raw, it also gives readers a glimpse at how real people describe body discomfort.
From a graphic medicine perspective, Seluk really nails the concept of patient self-reporting. Humor is infused into every story and supporting illustration as organs talk and dramatized re-enactments of injuries go way over the top. Medical privacy and social etiquette are addressed through the story of a woman fabricating a harrowing knife fight story to explain a thyroid surgical scar to nosy strangers. It's a good reminder of the importance of self-advocacy in healthcare and the impact of bedside manner, and a fun read for middle school students, teens, and even adults.
Before he was one-third of the team responsible for Congressman John Lewis' graphic memoir, March, Nate Powell was the Eisner award-nominated creator of Swallow Me Whole. The story follows two teenage step-siblings who, in addition to the usual challenges of young adulthood, suffer from mental illness. Ruth experiences obsessive compulsive disorder causing her to be distracted by insects. Believing she hears them talking to her, Ruth struggles to cross the front lawn, lest she destroy the insects living within. Meanwhile Perry wrestles with schizophrenia and the tiny wizard he sees while knowing it isn't real.
Powell punctuates his characters' experiences through the use of black and white, frenetic, whirling lettering patterns, and irregular panel shapes and sizes. Mental health struggles play out with a sense of isolation and fear as the teens admit that, while they have stopped sharing their experiences with loved ones, it hasn't made the hallucinations any less terrifying. Ruth and Perry's story overlaps the last days of their beloved grandmother, Memaw, and the additional stress mourning her death adds to the family's collective struggles. This is a quiet, dark, sometimes hard to follow title that may help anyone personally struggling with severe mental illness, or caring for someone who is.
Not only does everybody have a story, every body part can also tell a tale. Jennifer Hayden's "tits" are no different, and her breast cancer diagnosis leads her to reflect on her own life from puberty to diagnosis, and everything—including various cancers of other loved ones—that came in between. Illustrated in black and white, wide ranges of emotion are conveyed with just a few black lines. Hayden's story addresses life, death, divorce, reconciliation and triumph—but overall it is very much interrupted by cancer.
Her mother is diagnosed, a process that punctuates the end of her parents marriage and shatters her own perceptions of both her parents and marriage itself. Her mother-in-law and greatest female mentor dies of cancer, leaving her to face her own cancer without vital support. The Story of My Tits is for adults, but it can help bring comfort to any mature reader dealing with health struggles of their own, or within their family.
NOTE: A version of this article was also published by Good Comics for Kids.
Engage, Excite, Circulate!
With Comics Plus, students and library patrons can have access to thousands of age-appropriate digital comics, graphic novels, and manga. Learn more at comicsplusapp.com and sign for a free demo account.