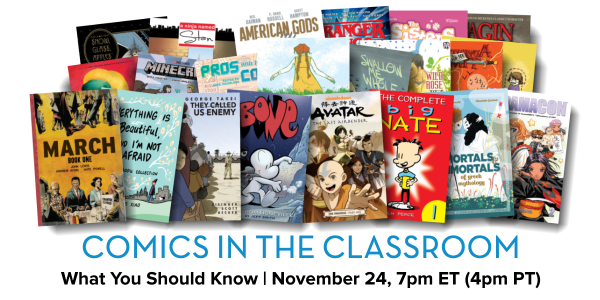 WATCH
"If you're telling me I can't enjoy reading, treating comics like contraband, then I'll play video games. It's a shorter jump from reading [Raina Telgemeier's] Guts to 'real' books than from not reading at all."

—Jerry Craft, award-winning creator of New Kid & Class Act
With the continuing explosion in popularity of comics, graphic novels, and manga as sources of reading and entertainment for kids, titles like Dog Man, New Kid, Guts, Avatar, My Hero Academia, March, and They Called us Enemy are flying off shelves in bookstores and libraries. They're also receiving critical acclaim and winning major awards—including the Pulitzer Prize, National Book Award, and Newbery Medal.
Join us after hours on Tuesday, November 24th at 7pm ET (4pm PT) for this free webinar where our panel of distinguished educators and librarians—Karen Gavigan, Kat Kan, Esther Keller, Christina Taylor—will discuss how the comics medium works and why it has become so popular, particularly amongst younger readers. They'll answer the questions librarians and educators frequently have about comics, as well as those asked by parents who don't believe comics count as "real" reading.
What are the differences between comics, manga, and graphic novels?
How do I select age-appropriate titles for my library or classroom?
Where should comics, manga, and graphic novels be shelved?
What's more effective: Dewey or Library of Congress?
What do you say to parents who don't want their children reading comics?
The 60-minute presentation will be moderated by LibraryPass' John Shableski, and include a live Q&A segment where our panelists will answer attendees' specific questions submitted via the registration form and during the session.
---
PANELISTS
Karen Gavigan, Ph.D. is a professor in the School of Information Science at the University of South Carolina. Her research interests include the use of graphic novels in schools, and the ways in which school library programs and resources impact student learning. Karen is a member of the International Federation of Library Associations and Institutions' (IFLA) Standing Committee for School Libraries. She has also served as a chair and / or member of numerous committees of the American Library Association (ALS), and the American Association of School Librarians (AASL). She is co-author of the book, Connecting Comics to Curriculum: Strategies for Grades 6-12 (Libraries Unlimited), and co-editor of the books, AIDS in the End Zone (Palmetto Press) and Literacy Behind Bars: Successful Reading and Writing Strategies for Use with Incarcerated Youth and Adults (Rowman & Littlefield Pub., Inc.)
Kat Kan started reading comics in Kindergarten and never stopped. She has worked in public and in school libraries for more than 35 years, and for library vendor Brodart as the Graphic Novel Specialist since 2003. A second-generation comics fan—her father introduced her to comics—she has raised two sons to love reading comics, and her grandsons also read them. Kat has done comics workshops for librarians since 1998; chaired the task force that created the Great Graphic Novels for Teens list; wrote the "Graphically Speaking" graphic novel review column in Voice of Youth Advocates from 1994 through 2019; served as the first librarian judge for the Eisner Awards in 2005; and does comics programming for all ages at her public library in Florida. After all these years, it's still wonderful fun to say she gets paid to read comics.
Esther Keller is the librarian at JHS 278, Marine Park in Brooklyn, NY. There, she started the library's first graphic novel collection and strongly advocated for using comics in the classroom. Her graphic novel collection is also the model for all middle school libraries in NYC. She started her career at the Brooklyn Public Library, and later jumped ship to the school system so she could have summer vacation and a job that would align with a growing family's schedule. On the side, she is a mother of 4 and regularly reviews for SLJ and School Library Connection (formerly LMC). In her past life, she served on the Great Graphic Novels for Teens Committee where she solidified her love and dedication to comics. She is a strong advocate for comics in the classroom and is grateful that it is almost the norm today. In her not so free time, she loves to craft.
Christina Taylor is a native Texan, born in Austin and raised in Richardson. Twice an alumna of UT, holding a BA in both English and French with a lifetime secondary education teaching certification in English as well as an MS in Information Science with a school librarian certification. Having been an educator since 1999, she left the classroom in 2013 to begin a new adventure as a freshly-minted school librarian. Christina is the immediate Past Chair of the Texas Maverick Graphic Novel Reading List Committee and the Social Media Manager for the Texas Library Association's Young Adult Round Table. As a librarian, she recognizes that ready access to myriad information sources demands that the modern library be more than a mere warehouse of books or a place to access the internet. Instead, it must become a service-oriented information workshop where users acquire and hone skills vital to be life-long learners in a dynamic world. Christina revels in introducing users to the concept of the modern library—a place where new technology is lauded and embraced; graphic novels are celebrated; students can connect their own devices to the wi-fi or borrow ones for in-library use; and users can assemble puzzles, play board games, color, and tinker. In short, the modern library is the riotous Neverland that the musty gatekeepers of old feared.