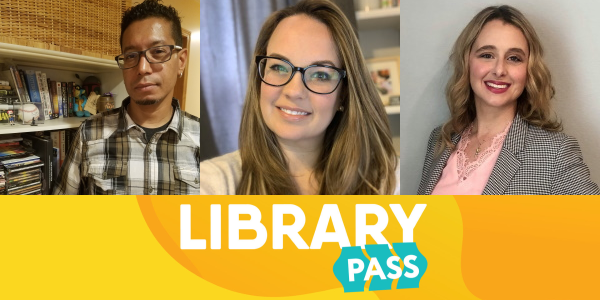 Experienced marketing executive, educator, and public librarian to lead content strategy and customer success efforts.
---
LibraryPass, Inc. is pleased to announce three recent additions to its full-time staff to support accelerating growth for ComicsPlus in the K-12 and public library markets. The team's newest members include Guy LeCharles Gonzalez, Chief Content Officer; Raquel Ryan, MSEd, Chief Experience Officer; and Moni Barrette, MLIS, Director, Collection Development & Publisher Relations.
"It is with tremendous excitement that LibraryPass is adding key contributors to these strategic positions," said Ian Singer, CEO of LibraryPass. "With ComicsPlus' rapid market acceptance, particularly in the K12 segment, this addition of talent will allow us to expand our efforts to further the use of comics in educational settings; to secure and package the best content that will engage readers of all ages; and most critically, to ensure our customers get the maximum return on their materials budget."
Guy LeCharles Gonzalez brings more than 25 years of media and marketing experience to the Chief Content Officer role, with extensive B2B and consumer experience in audience development, content strategy, and event programming. Most recently the project lead for the Panorama Project, he's also been the publisher & marketing director for Writer's Digest; director, content strategy & audience development for Library Journal & School Library Journal; and founding director of programming & business development for Digital Book World.
"I've been a vocal advocate for libraries having affordable and equitable access to digital content for many years," said Gonzalez, "from my time at Digital Book World through my most recent work with the Panorama Project, so the opportunity to join a company whose business model is explicitly built on that premise is an ideal fit. That we're initially focusing on my favorite, often underrated format—comics—makes it a dream come true!"
Raquel Ryan, MSEd, is a passionate educator and advocate for reading and literacy programs and high-risk students. As a Reading Teacher and Behavioral Health Children's Case Manager, she's advocated for the needs of high risk children, and led the initiative for retention of high-risk students at Keiser University where she created a resource center and built partnerships with services in the community. Raquel has also conducted market research and analyzed market trends leading to the adaptation of educational programs, while improving processes and procedures for the student experience. Her experience in and out of the classroom gives her a unique perspective on the importance of ensuring equitable access to educational materials and curriculum-aligned instruction, and will be an invaluable partner to LibraryPass customers in the Chief Experience Officer role. 
"Having the opportunity to work for a company that truly brings value to the classroom and the community for students is a privilege," said Ryan. "Advocating for and working with underprivileged and underrepresented children has forever been a passion of mine. Educational access and literacy rates have a huge impact on our at-risk kids. Getting a child excited about reading creates endless possibilities for their future!"
Moni Barrette, MLIS, is a Member at Large for American Library Association's Graphic Novel & Comics Round Table, and co-founder of the nonprofit Creators, Assemble! Inc. As a former public library manager, Moni won the California Library Association PRExcellence Award (2018 & 2019) for library events aimed at underserved adult library users, and has proven success using comics to increase library circulation. In her role as Director, Collection Development & Publisher Relations, Moni's expertise in libraries, comics, and relationship building will help classrooms and libraries maximize access to educational comics and graphic novel content, while helping publishers reach and engage new audiences. 
"ComicsPlus provides a true opportunity to go beyond the average retail-vendor model, and actually make a huge impact in getting graphic novels in the hands of a massively hungry, growing readership through schools and libraries," said Barrette. "Our simultaneous access model eliminates frustrating hold lists without breaking budgets, and the digital format certainly helps libraries put more titles in more hands! I'm personally dedicated to building the most valuable digital collection, featuring titles that are both widely popular and supportive of curriculum needs. That's what great collection development is all about!"
To keep in touch with LibraryPass, follow us on LinkedIn and Twitter, or contact us at info@librarypass.com.