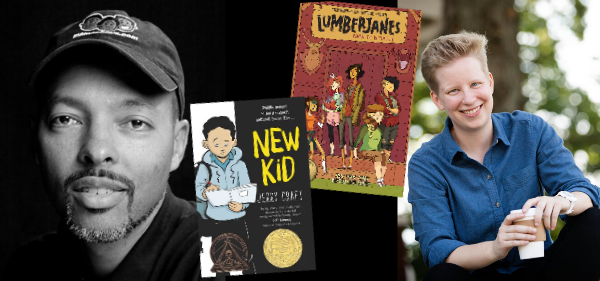 Join us on Tuesday, October 27th @ 1pm EDT (10am PDT) for this free webinar where our panel of distinguished authors, educators, and publishers will discuss their unique perspectives on the process of developing empathy with comic books & graphic novels.
How do we learn about people's lives we've never met? Books have introduced every generation to unfamiliar cultures and experiences, expanding our understanding and appreciation of the diverse world we live in. At their best, the people we meet and places we visit in books can help us develop empathy for ourselves and others by providing immersive perspectives of other experiences.
The 60-minute presentation will be moderated by LibraryPass' Chief Ambassador, John Shableski, and include a Q&A segment where our panelists will answer attendees' questions submitted via the registration form and during the live session.
---
PANELISTS
Jerry Craft is the New York Times bestselling author and illustrator of the graphic novels New Kid and Class Act (Quill Tree Books). New Kid is the winner of the 2020 John Newbery Medal for the most outstanding contribution to children's literature, while Jerry is also the recipient of the Coretta Scott King Author Award for the most outstanding work by an African American writer. He was born in Harlem, grew up in New York City and currently lives in Connecticut with his two sons and two beagles.
Tracy Edmunds, M.A. Ed., is an educator and author specializing in the use of comics and graphic novels in K-12 education. In her 12 years as an elementary teacher, she experienced first-hand the power of the comics medium in teaching and learning and now works to help educators, librarians, and parents bring the power and joy of comics to all kids. Tracy currently works with DC Comics, Andrews McMeel, Teacher Created Resources, and the nonprofit Reading with Pictures, and served as the Chair of the Children's jury for the 2020 Excellence in Graphic Literature Awards. She publishes elementary grade resources under Tracy's Teaching Tools on Teachers Pay Teachers and shares about comics on Twitter as @TracyEdmunds.
Grace Ellis is a New York Times bestselling comic book writer and creator. Her first book, Lumberjanes (BOOM! Studios) is an Eisner Award-winning series about monster-fighting girl scouts. She is also known for Moonstruck (Image Comics) and Lois Lane and the Friendship Challenge (DC Comics) as well as her work in television. Grace's upcoming book is a historical based-on-a-true-story graphic novel about suspense writer Patricia Highsmith (Abrams Books). You can follow her on Twitter @GraceCEllis.
Talia Hurwich is a Doctoral Candidate at NYU–Steinhardt researching graphic novels in a variety of classroom disciplines. Her work has been published in her book Worth a Thousand Words: Using Graphic Novels to Teach Visual and Verbal Literacy, co-authored with Meryl Jaffe; the journals Research in Science Education, the International Journal of Designs for Learning, and the Journal of Multilingual Education Research (forthcoming); and presented at numerous academic and professional conferences. Prior to her work as a researcher, Talia taught middle school ELA and Hebrew language. You can reach her and keep track of her work through the website of Worth a Thousand Word's co-author, meryljaffe.com.
Rossie Stone is dyslexic and spent most of his school years at the bottom of his classes being seen as stupid by many of his peers. He has since become the creator and founder of Dekko Comics Ltd, a company that turns schoolwork and information into entertaining comic stories, based on a technique he developed for himself towards the end of his school career, which in turn gave him his first grade A in an academic exam. Rossie has won awards like Young Edge and the SME Business Awards and been nominated for several more such as the National Diversity Award and Dyslexia Awareness Award. He has also been featured on BBC News, STV and has given three TEDX Talks — all of which spread the word of his dream to make education accessible and fun for all, and to lose the stigma of "stupidity" that often surrounds the who have neurodiversity.
Anthony E. Zuiker is the co-founder, publisher, and creative director of Zuiker Press, as well as the creator of television's hugely successful CSI franchise. One of the most groundbreaking cross-platform storytellers today, Zuiker created and executive-produced Cybergeddon, a digital blockbuster for Yahoo! which caught the attention of the International Digital Emmy Awards; in April of 2013, he received the 2013 Pioneer Prize at MIPTV in Cannes. Zuiker is also credited with pioneering the "Digi-novel" genre and is the author of the bestselling series, Level 26 (Dutton/Penguin Group). In 2011, he published his personal memoir, Mr. CSI: How a Vegas Dreamer Made a Killing in Hollywood, One Body at a Time, (HarperCollins). He lives in Malibu with his wife, Michelle, and sons.