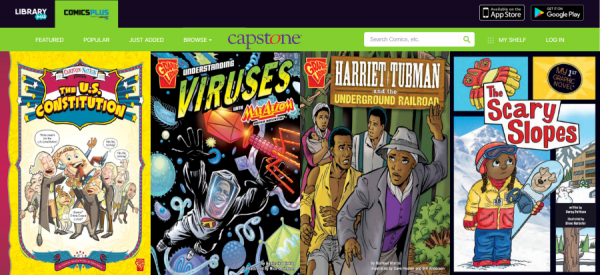 LibraryPass, Inc. and Capstone have announced a new distribution agreement which will deliver Capstone's trusted school and library content through LibraryPass' ComicsPlus to the primary and secondary school markets in the United States. With ComicsPlus, students can read more than 20,000 digital comics, graphic novels, and manga via their library—24 hours a day, 7 days a week, with unlimited, simultaneous checkout, for online and offline reading.
Capstone is a multiple-award-winning, best-selling publishing powerhouse featuring STEM support for graphic titles and series, professionally leveled reading recommendations along with state-aligned curriculum and common core support for titles offered through ComicsPlus.
"We are thrilled to host Capstone's catalog of immersive graphic nonfiction and kid-friendly, highly engaging, utterly addicting fiction titles to our growing digital platform," said Ian Singer, CEO of LibraryPass. "Capstone is a trusted publisher in the K-12 market and is among the early pioneers to understand the value of comics and graphic novels in literacy. With Capstone, there truly is a book that will connect with every reader. Our partnership with them will allow a digital distribution model that gives access to every reader, anywhere, anytime."
"Capstone is excited to partner with LibraryPass. Access to content kids want is important, especially in this time of distance learning. Our content is a perfect fit with ComicsPlus," said Matt Keller, Vice President of Business Development for Capstone.
For more information about LibraryPass and ComicsPlus, follow us on LinkedIn, contact us at info@librarypass.com, or sign up for a FREE demo at comicsplusapp.com. For additional information and title resources from Capstone, visit capstonepub.com/library, or contact Customerservice@capstonepub.com.