Congratulations to all of the 32nd Annual Will Eisner Comic Industry Awards winners—the "Oscars" of the comic book industry.
Our ComicsPlus customers have unlimited, simultaneous access to digital editions of these noteworthy winners: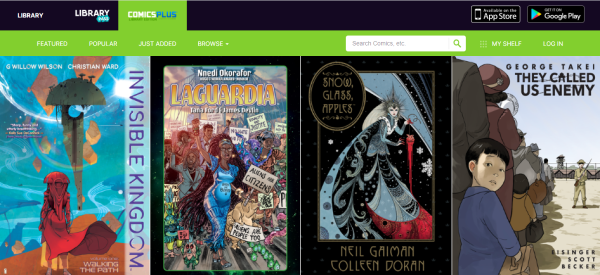 Invisible Kingdom (Best New Series; Best Painter/Digital Artist)
Hugo and World Fantasy Award-winning author G. Willow Wilson (Ms. Marvel, Wonder Woman) and Eisner winning artist Christian Ward (Black Bolt) team up for this epic new sci-fi saga! In a small solar system in a far-flung galaxy, two women–one a young religious acolyte and the other, a hard-bitten freighter pilot–uncover a conspiracy between the leaders of the most dominant religion and an all-consuming mega-corporation. On the run from reprisals on both sides, this unlikely pair must decide where their loyalties lie–and risk plunging the world into anarchy if they reveal the truth.
LaGuardia (Best Graphic Album – Reprint)
Written by Nnedi Okorafor, Hugo and Nebula award- winning author and the writer of Marvel's Shuri, this deluxe trade paperback collects issues #1-#4 of the mini-series and includes artist sketches and afterword from the author. In an alternate world where aliens have integrated with society, pregnant Nigerian- American doctor Future Nwafor Chukwuebuka has just smuggled an illegal alien plant named Letme Live through LaGuardia International and Interstellar Airport… and that's not the only thing she's hiding. She and Letme become part of a community of human and alien immigrants; but as their crusade for equality continues and the birth of her child nears, Future– and her entire world– begins to change.
Snow, Glass, Apples (Best Adaptation from Another Medium)
A chilling fantasy retelling of the Snow White fairy tale by New York Times bestselling creators Neil Gaiman and Colleen Doran! A not-so-evil queen is terrified of her monstrous stepdaughter and determined to repel this creature and save her kingdom from a world where happy endings aren't so happily ever after. From the Hugo, Bram Stoker, Locus, World Fantasy, Nebula award-winning, and New York Times bestselling writer Neil Gaiman (American Gods) comes this graphic novel adaptation by Colleen Doran (Troll Bridge)!
They Called Us Enemy (Best Reality-Based Work)
George Takei has captured hearts and minds worldwide with his captivating stage presence and outspoken commitment to equal rights. But long before he braved new frontiers in Star Trek, he woke up as a four-year-old boy to find his own birth country at war with his father's–and their entire family forced from their home into an uncertain future. In a stunning graphic memoir, Takei revisits his haunting childhood in American concentration camps, as one of over 100,000 Japanese Americans imprisoned by the U.S. government during World War II. Experience the forces that shaped an American icon–and America itself–in this gripping tale of courage, country, loyalty, and love.
Engage, Excite, Circulate!
With Comics Plus, students and library patrons can have access to thousands of age-appropriate digital comics, graphic novels, and manga. Learn more at comicsplusapp.com and sign for a free demo account.