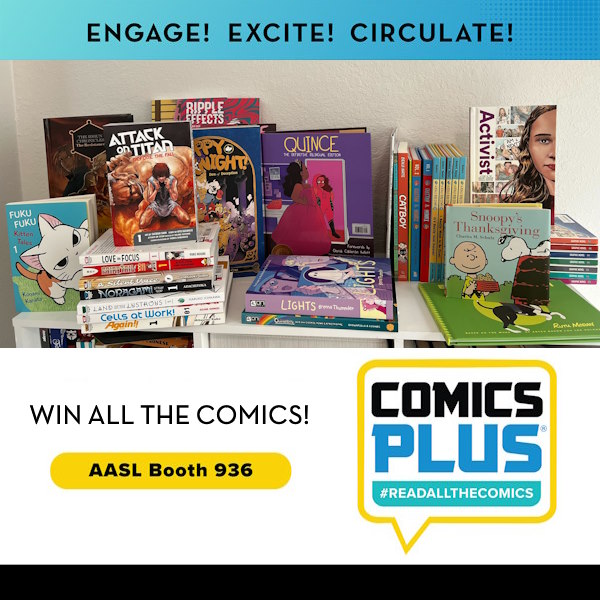 LibraryPass is excited to be exhibiting at AASL 2023 (Tampa Bay, FL) for the first time! In addition to demos of Comics Plus and hosting a session on dealing with book challenges, we're also bringing along a small library featuring some of our favorite publishers' comics and manga that we'll be giving away to one lucky school librarian at the end of the show!
Come visit us in Booth 936 on October 19-21, 2023, and browse the dozens of titles we'll be giving away, thanks to our library-friendly publisher partners:
ABDO
Ablaze
Andrews McMeel
Astra/TOON Books
Fanbase Press
Fantagraphics
Humanoids
Kodansha
Oni Press
Papercutz
Red Comet
Silver Sprocket
Tokyopop
Zuiker Press
The collection will be available to browse throughout the show in our booth, and registered attendees can enter the drawing to win them all. We'll select the winner on the final day of the show and ship the books straight to their school from the Convention Center. We'll also have a few extras to give away individually on the last day.
Programming: Proactively Addressing Challenges to Your Comics Collection
Join Moni Barrette — our Director of Collection Development and Past-President, ALA's Graphic Novel & Comics Round Table — on Friday, October 20 at 3:20 pm for a timely discussion about the history of comics challenges and proven strategies for reviewing and protecting your collections, your staff, and your students.
NOTE: Time, location, and panelists will be finalized soon by AASL. Conference attendees may use the AASL2023 app for an up-to-date and comprehensive listing of all conference events, or check the program page for updates.
Read All The Comics!
With Comics Plus, schools and libraries can offer readers unlimited access to thousands of digital comics, graphic novels, and manga from popular library-friendly publishers like ABDO, Andrews McMeel, BOOM! Studios, Capstone, Dark Horse, Europe Comics, Fantagraphics, Humanoids, Image Comics, Kodansha, Lerner, Manga Classics, Papercutz, Tokyopop, TOON Books, UDON Entertainment, Yen Press, and dozens more.
No holds, wait lists, or monthly borrowing limits—all at a price that won't break your materials budget!
Learn more at comicsplusapp.com and sign up for a free demo account.