LibraryPass, Inc. has announced a distribution agreement with Fantagraphics to make a range of titles from their digital catalog available to libraries and schools through Comics Plus — some for the first time ever! With Comics Plus, readers can access thousands of digital comics, graphic novels, and manga through their school or library—with unlimited simultaneous access for online and offline reading.
Founded in 1976 by Gary Groth and Michael Catron, Fantagraphics has been publishing groundbreaking, critically acclaimed, award-winning comics and graphic novels for nearly fifty years. From early luminaries to contemporary artists currently forging the future of visual storytelling, they celebrate great cartooning in all of its incarnations.
"We've been following LibraryPass since its inception and have been impressed with its growth and outreach within the school and library communities," said Jennifer Chan, Executive Director of Sales & Marketing at Fantagraphics. "As we continue to expand our eBook channels, we're excited to partner with LibraryPass and their Comics Plus program and look forward to widen our availability in schools and libraries."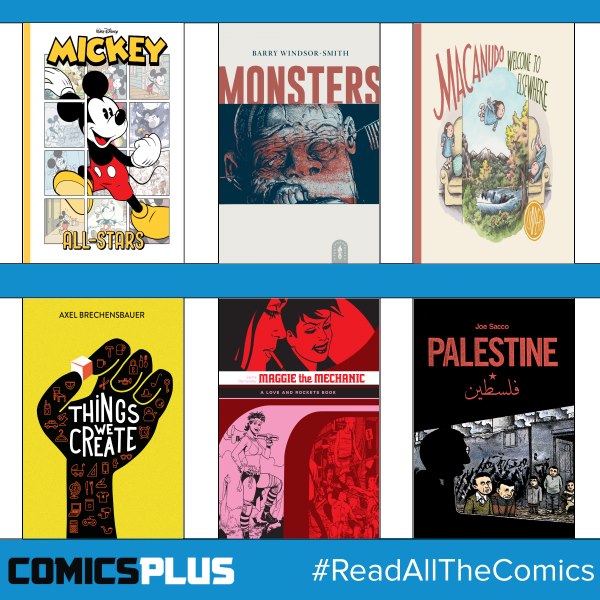 "We're truly honored to welcome a publisher with Fantagraphics' pedigree to the Comics Plus family, especially since some of these titles have never been available to libraries in digital format before," said Guy LeCharles Gonzalez, LibraryPass' Chief Content Officer. "They've been on our wish list from the beginning, and it's an exciting way to end what's already been an incredible year for new partners."
Notable titles from Fantagraphics that will be available on Comics Plus include Dementia 21, Hip Hop Family Tree, King: The Complete Edition, Monsters, Palestine, Peanuts Every Sunday, Usagi Yojimbo, and a range of Love and Rockets, with more to be added in the months ahead.
Celebrating the partnership, Chan will be appearing in a live chat in LibraryPass' booth during LibraryCon (Thursday, November 17, 3pm EST), discussing Fantagraphics' storied history, key titles, and their relationship with libraries.
For more information about Comics Plus sign up for a FREE demo at comicsplusapp.com, follow us on LinkedIn, or contact us at info@librarypass.com.