Personal narrative writing has long been a staple in the middle school English/Language Arts curriculum. What was once, "What did you do over summer break?" has now evolved into more sophisticated and meaningful writing prompts asked of our students at the beginning of each school year. The more we read, the better writers we become — so students need access to worthwhile mentor texts to help further their writing skills.
Comics Plus has a wide variety of multicultural graphic memoirs and first-person narratives available to students to aid in their knowledge of narrative works. By reading these stories, not only will students see excellent examples of the technical aspects of narrative writing — including structure, grammar, and vocabulary — but they will also get to read about the lives of other people. Sometimes students will be able to make connections to the authors of the stories because they see themselves in the graphic novels; other times, they will read about people who have led different lives, thus building empathy for others and cultural awareness.
PERSONAL NARRATIVES: CULTURAL EXPERIENCES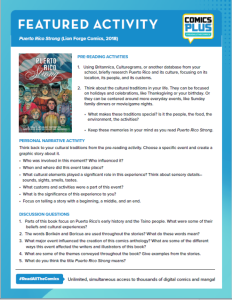 The beginning of the school year also coincides with National Hispanic Heritage Month (September 15-October 15), so we have decided to spotlight a very powerful graphic novel, Puerto Rico Strong (Lion Forge Comics, 2018). It is an anthology of stories and artwork from Puerto Rican comics creators illustrating the resilience of the Puerto Rican people through retellings of historical events to narratives of more current struggles, most notably the recent devastation of Hurricane Maria.
While reading the collection with students, teachers can take advantage of our Personal Narrative Activity for Puerto Rico Strong. Pre-reading activities include doing basic research on Puerto Rico to give students some background knowledge of the island's history and culture, as well as some questions meant to get them thinking about their own cultural experiences. After reading about the experiences of the Puerto Rican authors and illustrators, students can use their stories as mentor texts to create their own personal narratives about a significant event from their own lives — either as an essay, or creating their own graphic narrative using our Custom Comic Template. Discussion questions will further deepen students' understanding of Puerto Rican culture and how specific events can play an important role in their own lives.
Whether reading the collection in its entirety or selecting a few specific stories on which to focus, students will gain a newfound knowledge of the strength of the Puerto Rican community and will derive inspiration for writing their own personal narratives.
MORE MENTOR TEXTS FOR PERSONAL NARRATIVES
Two other graphic novels centering around historical events are They Called Us Enemy (Top Shelf/IDW, 2019) by George Takei, Justin Eisinger, Steven Scott, and Harmony Becker, and We'll Soon Be Home Again (Dark Horse, 2020) by Jessica Bab Bonde, Peter Bergting, and Kathryn Renta. Both deal with people who were unjustly incarcerated during World War II. They Called Us Enemy is Takei's award-winning retelling of his childhood spent in Japanese-American internment camps, which also has a Spanish-language edition (translated by Lawrence Schimel), while We'll Soon Be Home Again features the stories of six Holocaust survivors during their time in Nazi concentration camps. A teaching guide is available for They Called Us Enemy, and We'll Soon Be Home Again includes a timeline and glossary at the end of the book. It would also be very easy to read these two stories and compare and contrast the unfair and inhumane treatment of these two groups of people during World War II.
For those wishing to read a more comprehensive biography of someone's life, Louis Armstrong: Jazz Legend (Capstone, 2013), Roller Coaster Grandma: The Amazing Story of Dr. Ruth (Apples & Honey Press, 2018), and Seen: Rachel Carson (BOOM! Box, 2021) are wonderful books to share with your students. The first two are written from the perspective of Armstrong and Westheimer, respectively, as they reflect on the events that played a significant role in their lives. Carson's story focuses more on her passion for nature and her conservation efforts. Dr. Ruth's story includes a timeline and discussion questions at the end of the book, and Carson's story includes a teaching guide.
Finally, for more contemporary reading, we recommend A Tale as Tall as Jacob: Misadventures with My Brother (Andrews McMeel, 2021), Brother: A Story of Autism (Zuiker Press, 2019) and The World of Chub Chub (TPub Comics, 2014). The first two graphic novels are written by women who grew up with brothers with special needs. Each sister recounts stories filled with an array of emotions, from frustration to patience and always with love as they navigated life with their brothers, and Brother's publishers offers a teaching guide on its website. Chub Chub is a love letter to Neil Gibson's mother as he retells humorous stories of his antics growing up as a mischievous little boy; each chapter is an event from his life. Teachers can pick and choose different chapters to use as mentor text for personal narrative writing, or the graphic novel can be read in its entirety for pleasure.
By reading graphic memoirs and first-person narratives as mentor texts, students can get ideas and inspiration from other writers. They can see how the writers have a clear focus, and a beginning, middle, and end to their stories; how they develop their ideas with engaging details. Most importantly, students can see how the writers use their unique voices when telling their personal stories, helping them find their own voices and share their own stories.
Amy Fuller is a middle school librarian in Austin, Texas.
---
All of the recommended titles are available in Comics Plus' Middle School and Children's Public Library collections, while every Comics Plus collection offers a variety of graphic memoirs and first-person narratives for readers of all ages and interest levels to choose from. For more information about Comics Plus, sign up for a FREE demo at comicsplusapp.com, follow us on LinkedIn, or contact us at info@librarypass.com.