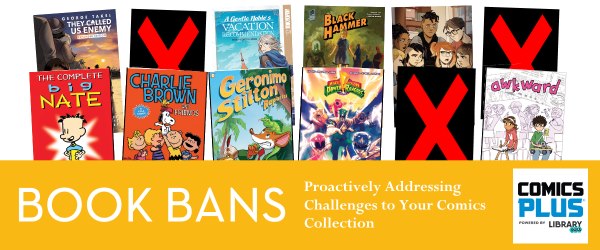 With book challenges sweeping the country, including many targeting award-winning comics, the need for education and resources to properly address them has never been greater.
Join us on Thursday, June 9th at 2pm EDT / 11am PDT, as our panel of experienced librarians and industry professionals — Moni Barrette, Betsy Gomez, Jack Phoenix — present a brief history of comics challenges, and offer a range of proven strategies for reviewing and protecting your collections, your staff, and your community.
How to properly evaluate and curate age-appropriate content
How to use your Collection Development Policy to respond to challenges
Understand intellectual freedom concerns and ramifications of dealing with challenges
Identify resources to help defend your collections, community, and staff
The 60-minute presentation will include a live Q&A segment where our panelists will answer attendees' specific questions submitted via the registration form and during the session.
NOTE: A Certificate of Completion is available with the recording.